NELady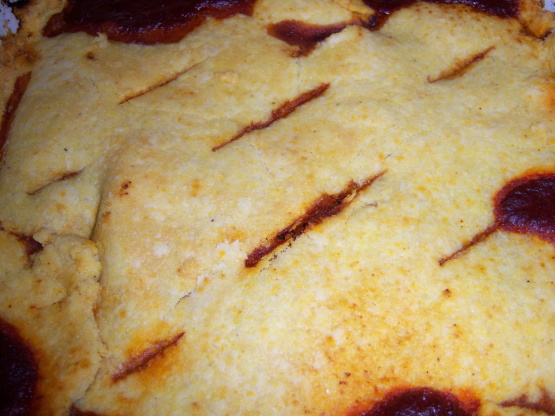 My daughter recently bought me some vintage cookbooks. This recipe came from Betty Crocker's Dinner in a Dish, published in 1965.

Top Review by NELady
Prett good stuff!!! I followed the recipe as directed except I added a couple of cloves of minced garlic to the hamburger and onion mixture (while it was browning). I add garlic to just about everything. I liked the filling (tasted like a beanless chili with corn) very much, and the pastry was good. You could add some beans to this if you wanted to stretch it further, but as I was only feeding hubby and I, I left it as is - and there are plenty of left-overs. Made for Photo Tag, 1/15/09 - NELady.
Preheat oven to 400. Peel and slice the onion. Drain the corn.
Brown the meat and onion in a large skillet until meat is cooked through and onion is tender.
Stir in the tomato juice, corn, and seasonings. Simmer 10 minutes.
Pour the meat into a 11x7 baking dish.
In a large bowl, mix the flour, cornmeal and salt. Mix in oil until mixture looks like fine crumbs.
Add the water and blend until a soft dough forms (add a little more oil if necessary). Roll between 2 sheets of waxed paper into a 12x7 rectangle.
Peel off the top sheet of waxed paper. Place pastry on top of meat mixture, then peel of the second piece of waxed paper. Cut 4 slits near the center of the pastry.
Bake in 400 degree oven for 30-35 minutes.