Soft Peanut Butter Cookies
HokiesMom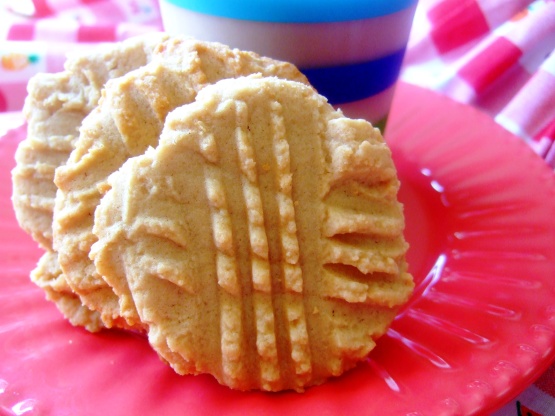 This is my mother-in-law's recipe.She was always baking and this is one of my favorite recipes she had.
Fantastic cookies!!!! I haven't made peanut butter cookies for at least a year and upon tasting one of these, I just kept going and ate 3. Then my 19 yo DS and his girlfriend came back from classes and they also just loved these cookies. I made 1/2 of the recipe, but it still made 30 cookies using my cookie scoop. The only change I made was to add a few shakes of sea salt from my shaker and rather than rolling them into balls and then in sugar, I just dipped my fork into the sugar before making the marks in my scoops, much easier. Mine cooked perfectly in 7 minutes. They are slightly crisp on the edges and soft in the middle, just perfect. Thanks for sharing this wonderful recipe that I will definitely be repeating.
Cream butter, peanut butter and both sugars together.
Add eggs, one at a time, beating well.
Add baking soda, powder and vanilla.
Stir in flour.
Roll into balls, roll in sugar. Flatten cookies, using a fork, in a criss-cross pattern.
Bake on ungreased cookie sheet at 350 degrees for 6-7 minutes or adjust to suit your oven and size of cookies!