Saturn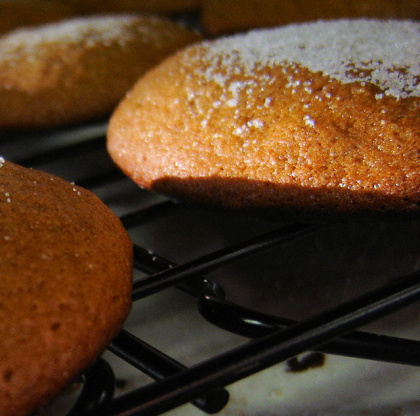 These are big cake-like cookies - a favourite on the Canadian east coast and definitely an old family recipe.

Well, after my friend Lou (Saturn) made these cookies and talked about them in the kid-friendly forum, I had to try them! I made them when I really needed a baking fix (my form of therapy!) one evening. These baked up light, fluffy, more like flattened mini-cakes than what I think of as cookie-texture. They are soft, spicy and delicious! I also added about 1/4 tsp of ground cloves to the ginger and cinnamon, and I used canola oil in place of shortening. This is a fantabulous cookie, one that I will definitely make again and again. Thanks, Nanna D!
Preheat oven to 375.
Grease baking sheets.
Sift together flour, soda, salt, ginger and cinnamon.
Cream together shortening and sugar until fluffy.
Add molasses and egg and beat well.
Add flour mixture to creamed mixture alternately with water and vinegar combined, mixing thoroughly.
Drop by tablespoons 2 inches apart on baking sheets.
Sprinkle with sugar if desired.
Bake in moderate (350) oven 12 to 15 minutes.