Soft Molasses Cookies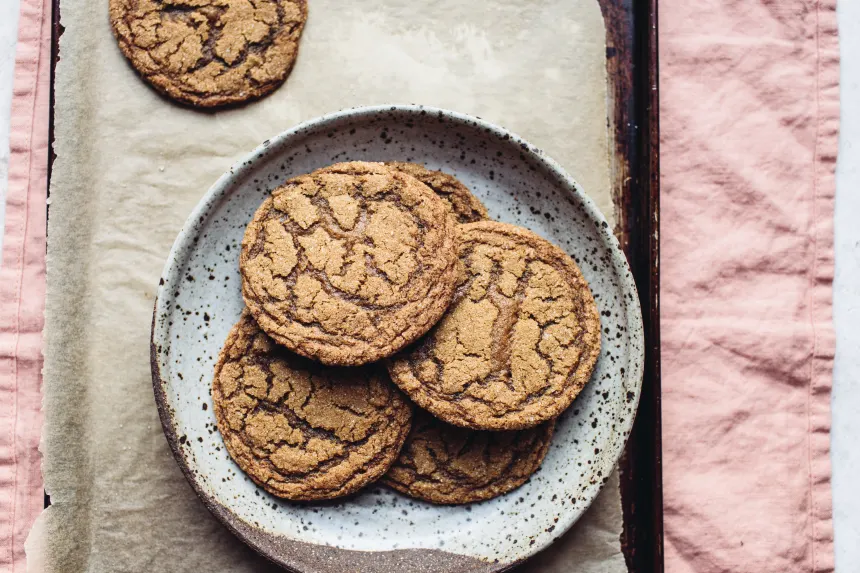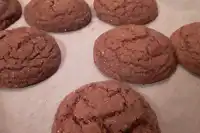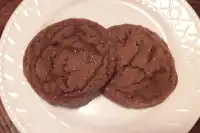 Ready In:

40mins

Ingredients:

12

Serves:

42
directions
Cream together shortening and brown sugar.
Stir in egg and molasses and mix well.
Fold in dry ingredients and stir.
Cover and chill till firm (1-2 hours).
Preheat oven to 350°.
Roll dough into small balls and roll in white sugar.
Place on lightly greased cookie sheet.
Bake at 350° for 9-10 minutes.
Leave on sheet one minute until set.
I changed the amount of salt in here. My original recipe calls for 1 tsp of salt but that may be too much for some. A few people have made it as is (the majority) with no complaints on salt, however a few commented it was too much. I think 1/2 tsp can be used with no alterations to the recipe. I will leave it up to you either way you still WIN !
Questions & Replies

Reviews
BEST MOLASSES COOKIES EVER!!! Yes, I am that excited about these. I didn't have allspice and nutmeg, so I just added cinnamon and ginger. I subbed 3/4 cup vegetable oil for the shortening, and they turned out great! Everyone loved them, even my brother, who hates molasses. :) Will definitely make this one again!

 

Yum!! These are fantastic...my 2.5yr old twins LOVED the dough! I have one rack of cookies left..still warm..& I'm sure they'll be gone before bedtime. I'm going to start another batch right away. I followed the recipe exactly..I love a spicy cookie & this as a to-die-for combo. I wouldn't call these super spicy--my girls don't like anything too spicy & they loved these. THANK YOU!!!

 

These cookies were amazing! At first bite, I felt like I was 8 years old sitting on the folding step-stool in my Grandmother's kitchen. :) Sooooo Yummy!<br/>I used 3/4c of coconut oil instead of the shortening and used ground cloves instead of allspice (since I didn't have any). I also used unsulfured, blackstrap molasses, so they came out nice & dark! :)

 

This is a fantastic molasses cookie recipe! The only substitution I made was butter for the solid shortening since my husband and I aren't fond of it. It wasn't necessary for me to refrigerate the dough because it was firm enough to roll into balls but this may have not been the case had it been a warmer day. I also used parchment paper to bake these on so no sticking and easy clean-up. This cookie is definitely one I will make again!

 
Tweaks
I used butter and a paper towel to grease the cookie sheets. Worked perfectly. I ran out of molasses, i had about 1/3 cup when i needed 1/2, so i substituted in some honey and they are still wonderful and have that molasses taste. I also put twice as much cinnamon in. I baked on convection at 325 degrees for about 11 minutes and they were PERFECTLY baked!! I would definitely recommend using convection.

 

Used extra virgin olive oil instead, didn't have allspice so I added 1/2 teaspoon each of extra of ginger and cinnamon to make up for it, and only used 1/8 teaspoon salt, and rolled rounded tablespoonfuls of chilled cookie dough into cinnamon and white sugar mixture before baking. (Used bacon grease ever so lightly to grease cookie sheets), and baked for 8-9 minutes as instructed at 350 degrees. After cooling, I dusted cookies with confectioners sugar. These cookies are extremely tasty and chewy with a slight crispy edge. The molasses didn't over power the cookie either.

 

These are awesome but DON'T USE A SILPAD! 1ST time ever I baked anything that didn't bake even/correctly on them..I usually used parchment paper but ran out..I will redo ANOTHER batch using paper or may just grab a new cookie sheet..Dough was great! I wish it said WHAT EXATLY YOU USED TO GREASE COOKIE SHEET?? OIL, VEG SHORT.,BUTTER, PAM,?? Someone respond if you know or see this! Thank you!

 

So yummy! They are barely cool enough to touch and already each of my children has eaten three. I got 49 cookies from this recipe.<br/><br/>I did make a few slight changes: butter instead of shortening, and I added finely chopped crystalized ginger to the dough. Skipped the rolling in sugar part altogether, though next time I might pulverize the crystalized ginger and roll the cookies in them rather than adding it to the dough.

 
RECIPE SUBMITTED BY
<p>I am originally from Alberta, Canada.</p> <p>I am an Independent Avon Sales Representative.</p> <p>Photography has been a passion of mine for as long as I can remember so I have taken a few college classes to further my skills.&nbsp;<br /><a href=http://www.glitter-graphics.com><img src=http://dl6.glitter-graphics.net/pub/1762/1762636hb88s3cqu4.gif border=0 alt= width=480 height=500 /></a><a href=http://www.glitter-works.org target=_blank> <br /><br />I now live in NC, USA. I have one wonderful daughter Shantelle <br /></a><a href=http://s132.photobucket.com/albums/q2/CanUSgal/?action=view?t=FromShirlsCD1142.jpg target=_blank><img src=http://i132.photobucket.com/albums/q2/CanUSgal/FromShirlsCD1142.jpg border=0 alt=Photobucket /></a> <br /><br /><a href=http://www.glitter-graphics.com><img src=http://dl10.glitter-graphics.net/pub/1147/1147480t6phl13g44.gif border=0 alt= width=488 height=23 /></a><a href=http://www.glitter-works.org target=_blank>glitter-graphics.com</a> <br /><br />I am the proud Gramma of Alexis&nbsp; &amp; Lukas<br /><a href=http://s132.photobucket.com/albums/q2/CanUSgal/?action=view?t=100_3348-1.jpg target=_blank><img src=http://i132.photobucket.com/albums/q2/CanUSgal/100_3348-1.jpg border=0 alt=Photobucket /></a> <br /><br />and Ava <br /><a href=http://s132.photobucket.com/albums/q2/CanUSgal/?action=view?t=n814815174_3097164_5314-1.jpg target=_blank><img src=http://i132.photobucket.com/albums/q2/CanUSgal/n814815174_3097164_5314-1.jpg border=0 alt=Photobucket /></a> <br /><br /> <object width=480 height=360 data=http://w132.photobucket.com/pbwidget.swf?pbwurl=http://w132.photobucket.com/albums/q2/CanUSgal/9b7590b0.pbw type=application/x-shockwave-flash> <param name=data value=http://w132.photobucket.com/pbwidget.swf?pbwurl=http://w132.photobucket.com/albums/q2/CanUSgal/9b7590b0.pbw /> <param name=src value=http://w132.photobucket.com/pbwidget.swf?pbwurl=http://w132.photobucket.com/albums/q2/CanUSgal/9b7590b0.pbw /> <param name=wmode value=transparent /> </object> <a href=http://photobucket.com/slideshows target=_blank><img src=http://pic.photobucket.com/slideshows/btn.gif alt= /></a><a href=http://s132.photobucket.com/albums/q2/CanUSgal/?action=view?t=9b7590b0.pbw target=_blank><img src=http://pic.photobucket.com/slideshows/btn_viewallimages.gif alt= /></a> <br /><br /> <object width=250 height=250 data=http://w132.photobucket.com/pbwidget.swf?pbwurl=http://w132.photobucket.com/albums/q2/CanUSgal/1181676225.pbw type=application/x-shockwave-flash> <param name=data value=http://w132.photobucket.com/pbwidget.swf?pbwurl=http://w132.photobucket.com/albums/q2/CanUSgal/1181676225.pbw /> <param name=src value=http://w132.photobucket.com/pbwidget.swf?pbwurl=http://w132.photobucket.com/albums/q2/CanUSgal/1181676225.pbw /> <param name=wmode value=transparent /> </object> <a href=http://photobucket.com/slideshows target=_blank><img src=http://pic.photobucket.com/slideshows/btn.gif alt= /></a> <br /><br /> <object width=400 height=400 data=http://w132.photobucket.com/pbwidget.swf?pbwurl=http://w132.photobucket.com/albums/q2/CanUSgal/1176780150.pbw type=application/x-shockwave-flash> <param name=data value=http://w132.photobucket.com/pbwidget.swf?pbwurl=http://w132.photobucket.com/albums/q2/CanUSgal/1176780150.pbw /> <param name=src value=http://w132.photobucket.com/pbwidget.swf?pbwurl=http://w132.photobucket.com/albums/q2/CanUSgal/1176780150.pbw /> <param name=wmode value=transparent /> </object> <a href=http://photobucket.com/slideshows target=_blank><img src=http://pic.photobucket.com/slideshows/btn.gif alt= /></a><a href=http://s132.photobucket.com/albums/q2/CanUSgal/?action=view?t=1176780150.pbw target=_blank><img src=http://pic.photobucket.com/slideshows/btn_viewallimages.gif alt= /></a> <br /><br /> <object width=480 height=360 data=http://w132.photobucket.com/pbwidget.swf?pbwurl=http://w132.photobucket.com/albums/q2/CanUSgal/1169500164.pbw type=application/x-shockwave-flash> <param name=data value=http://w132.photobucket.com/pbwidget.swf?pbwurl=http://w132.photobucket.com/albums/q2/CanUSgal/1169500164.pbw /> <param name=src value=http://w132.photobucket.com/pbwidget.swf?pbwurl=http://w132.photobucket.com/albums/q2/CanUSgal/1169500164.pbw /> <param name=wmode value=transparent /> </object> <a href=http://photobucket.com/slideshows target=_blank><img src=http://pic.photobucket.com/slideshows/btn.gif alt= /></a><a href=http://s132.photobucket.com/albums/q2/CanUSgal/?action=view?t=1169500164.pbw target=_blank><img src=http://pic.photobucket.com/slideshows/btn_viewallimages.gif alt= /></a> <br /><br />Here are some of my photos: <br /><br /><a href=http://s132.photobucket.com/albums/q2/CanUSgal/?action=view?t=100_2666.jpg target=_blank><img src=http://i132.photobucket.com/albums/q2/CanUSgal/100_2666.jpg border=0 alt=Photobucket /></a> <br />Frozen Lemonade Squares <br /><br /><a href=http://s132.photobucket.com/albums/q2/CanUSgal/?action=view?t=GEDC0124.jpg target=_blank><img src=http://i132.photobucket.com/albums/q2/CanUSgal/GEDC0124.jpg border=0 alt=p /></a> <br /><br /><a href=http://s132.photobucket.com/albums/q2/CanUSgal/?action=view?t=100_2536.jpg target=_blank><img src=http://i132.photobucket.com/albums/q2/CanUSgal/100_2536.jpg border=0 alt=Photobucket /></a> <br /><br />My HUGELY popular recipe Soft Molasses Cookies <br /><br />I love photography and am trying to get better at it. Here are a few pics I have taken. <br /><a href=http://s132.photobucket.com/albums/q2/CanUSgal/?action=view?t=Jasper.jpg target=_blank><img src=http://i132.photobucket.com/albums/q2/CanUSgal/Jasper.jpg border=0 alt=Photobucket /></a> <br /><br /><br /><br /><br /><br /><br /><a href=http://www.glitter-graphics.com><img src=http://dl4.glitter-graphics.net/pub/1167/1167354yin8tsiepj.gif border=0 alt= width=500 height=80 /></a><a href=http://www.glitter-works.org target=_blank>glitter-graphics.com</a> <br /><br />You can find me here at zaar as a Forum Host in: <br /><br />Holidays &amp; Entertaining Forum <br />Regional Forum</p> <p>&nbsp;</p> <p><br /><br /><a href=http://www.glitter-graphics.com><img src=http://dl6.glitter-graphics.net/pub/2324/2324726rgpcfiuucd.gif border=0 alt= width=472 height=107 /></a><a href=http://www.glitter-works.org target=_blank>glitter-graphics.com</a> <br /><br /><a href=http://www.glitter-graphics.com><img src=http://dl2.glitter-graphics.net/pub/2202/2202562q221kj5vkc.jpg border=0 alt= width=250 height=239 /></a><a href=http://www.glitter-works.org target=_blank>glitter-graphics.com</a> <br /><br />From the day I found zaar I have never logged out. I love cookbooks and have tons and TONS... right now I am trying to collect most of the Gooseberry Patch ones and have to have dh keep a list in his wallet so we dont buy duplicates. I love ones with pictures and love, love TOH ones. I have got my famous tilapia with jasmine rice published in TOH and have a few published in some GBP. I will find any excuse to buy a cookbook lol. I like practical cookbooks, nothing strange or difficult. Simple ordinary everyday family recipes.</p> <p><br /><br /><img src=http://img98.imageshack.us/img98/8283/mybannerglitter0bf587ff.gif border=0 alt=Create your own banner at mybannermaker.com! /></p> <p>&nbsp;</p> <p>&nbsp;</p> <p><img src=http://img.photobucket.com/albums/v51/tiggrr34/Graphics/HolidayOrnamentSwapTag2011-4.jpg alt= width=200 height=266 /></p>
View Full Profile