"soft As Wonder" White Bread
Bake it Baby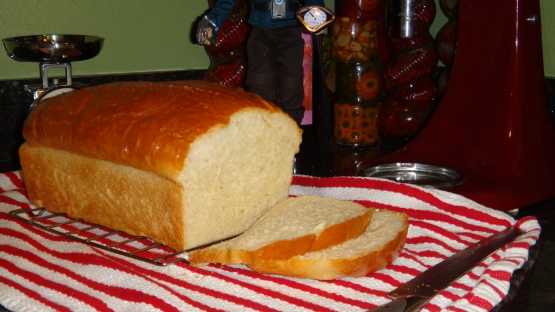 This is my standard loaf of white bread, good for anything. Very soft. I mix it in the bread machine then bake it in the oven. As with all my bread, I let it cool and then slice the whole loaf and put in a freezer bag and freeze and then I can take whatever I need out and have fresh bread. This does not include machine and rising time.

This is my new go-to bread recipe. It is amazing. I do not have a bread machine so for me, the "dough" setting is mixing everything in my kitchen aid for about 10mins set on 4 with a dough hook and then allowing the bread to rise for about an hour. After my "dough" cycle has finished, I continued with the recipe as written and could not be happier. My family ate this bread up so fast, I had to make it again the next day.
*hint* it makes a huge delicious difference if you do brush it with butter as soon as it comes out of the oven. I highly recommend this recipe to the beginner and seasoned baker alike. Just remember the most important ingredient is patience.
If you are looking for a soft fluffy bread, this is perfect.
Add ingredients in order given (this is for my machine, your's maybe different).
Select dough cycle.
When done, take out dough and on a floured surface, shape into loaf and place in loaf pan. (I try to work it as little as possible).
Let rise in a warm place for approximately 40 minutes until doubled in size.
Bake on centre rack of preheated 350 degree oven for 25-30 minutes.
Cool on wire rack before slicing.