Kittencal's Old Fashioned White Bread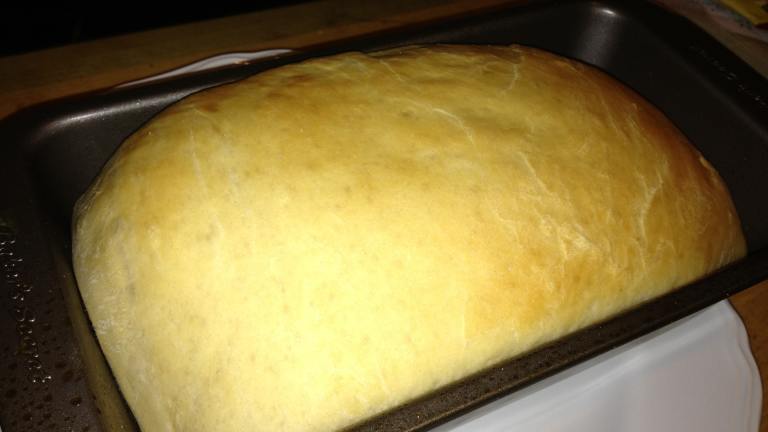 This recipe goes back years and I still make it today, the dough is a pleasure to work with and always produces a soft high delicious loaf of bread --- sometimes it's not the ingredients but the method used, I have been baking bread for long enough to know all the secrets, follow the directions and I think you will be very pleased with this bread! --- Canadian members use all purpose white flour, for U.S. members use white bread flour --- I suggest to make this with a heavy-duty stand mixer but if you do not have one this can be made by hand --- just a tip, to create a perfect rising temperature for yeast bread/buns, just before you start making the recipe turn your stove on to 200 degrees F and leave it on for a couple of minutes then turn it off, you can rise your dough in the oven, works every time, but don't forget to turn the oven off or you will have to rise it at room temperature lol! --- this dough can be used for many different recipes, it makes a wonderful cinnamon-raisin swirl bread --- for pan greasing see my recipe#78579
Ready In:

2hrs 30mins

Yields:

Units:
Nutrition Information
directions
Fit a heavy-duty stand mixer with kneader blade.
In a small saucepan scald 1/2 cup milk with 2 tablespoons sugar and 2 teaspoons salt until very warm stirring with a spoon until no sugar or salt granules remain; set aside until luke-warm (for faster cooling place in the fridge for about 15-20 minutes on your top fridge shelf).
Place 4 cups white flour and 3 tablespoons shortening (or lard) in the stainless steel mixing bowl along with the warm milk mixture; cover bowl with a towel to keep the milk warm.
In a cup mix together 1-1/4 cups warm water with 2 teaspoons sugar, mix with a spoon until the sugar is dissolved; add in 1 tablespoon plus 1/2 teaspoon dry yeast, stir with a spoon for about 15 seconds.
Place a towel over the cup and proof for about 8-10 minutes or until foamy.
Place the water/yeast mixture in the bowl.
Start mixing/kneading add in more flour as needed to create a soft smooth dough (about 8 minutes).
Remove the dough to a very lightly floured surface; cover with a clean tea towel and let rest for about 5-8 minutes.
Gather up the dough and shape into a ball, then place in a large well greased bowl.
Cover with plastic wrap and let rise in a warm place for about 1 hour (I use my oven!).
Punch down the dough and place on a surface.
Using hands (not a rolling pin) flatten to a 10 x 14-inch rectangle (trust me this dough will shape beautifully, no need for a rolling pin!).
Roll the dough up tightly then seal the long seam.
Using a knife slice off the dough ends just enough to fit into your 8x4-inch pan, then pinch the dough ends together to seal (you can shape the two ends in a ball and freeze to make buns or discard the dough).
Place in a dark metal 8 x 4-inch bread pan.
Cover and let rise in a warm place for about 30-40 minutes or until doubled.
Bake in a 375 degree oven for about 25 minutes, or until golden brown.
Submit a Recipe Correction
RECIPE MADE WITH LOVE BY
"This recipe goes back years and I still make it today, the dough is a pleasure to work with and always produces a soft high delicious loaf of bread --- sometimes it's not the ingredients but the method used, I have been baking bread for long enough to know all the secrets, follow the directions and I think you will be very pleased with this bread! --- Canadian members use all purpose white flour, for U.S. members use white bread flour --- I suggest to make this with a heavy-duty stand mixer but if you do not have one this can be made by hand --- just a tip, to create a perfect rising temperature for yeast bread/buns, just before you start making the recipe turn your stove on to 200 degrees F and leave it on for a couple of minutes then turn it off, you can rise your dough in the oven, works every time, but don't forget to turn the oven off or you will have to rise it at room temperature lol! --- this dough can be used for many different recipes, it makes a wonderful cinnamon-raisin swirl bread --- for pan greasing see my recipe#78579"