teresas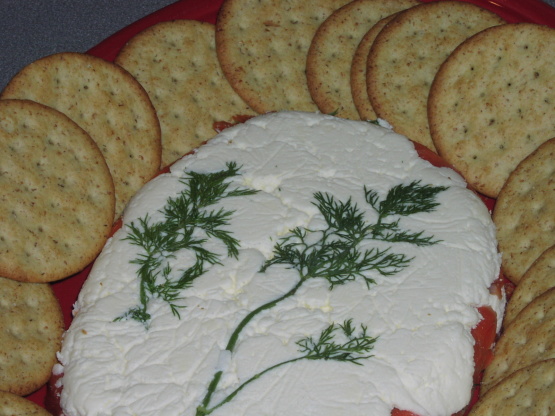 Posted for Zaar World Tour 4. Salmon, which is found on both the east and west coasts of Canada, is a special favorite there. This recipe is ideally portable for a party or a picnic. Simply slip out of the fridge and into your cooler and serve with some good crackers of freshly sliced French bread. This makes an absolutely elegant presentation. (Prep time does not include overnight chilling.)

Wow! I mean Wow! This is so good. It's full of smooth, creamy and melts on your tongue goodness. We loved it. The presentation is to die for. This is so easy to prepare and others will be amazed at it. I did cut the recipe in half and prepared it in my small oval dish. Thanks for posting. :)
Beat together cream cheese and butter; add salt to taste.
Line an 8x4-inch loaf pan with a piece of plastic wrap large enough to extend over edge of pan. Arrange dill sprigs on bottom.
Carefully spread a third of the cheese mixture in the lined pan to make an even layer.
Sprinkle with half the chopped dill and top with half the smoked salmon.
Repeat layers, ending with cream cheese mixture.
Press down lightly to compact layers.
Cover and chill overnight.
To serve, pull edges of plastic wrap to loosen torta; invert onto plate and carefully remove plastic wrap.
Serve with bread and/or crackers.