Slow Cooker Pork With Pears and Cranberries
jswinks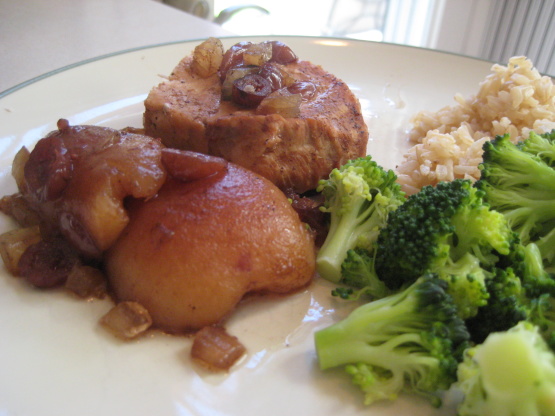 Boneless pork loin or thick chops in a lush sauce. Good enough for company, easy enough for everyday. The slow cooker does the work.

This was really good. The balsamic was a little overpowering, so next time I would reduce the amount. Also, it wasn't specified if sliced or halved pears were to be used, so I used sliced pears and that worded out. But I think pear halves would be just as good. But a 12-oz can of pears wasn't quite enough for our family, so I would increase that, too. Made for the April tag game in the Spain/Portugal forum.
Mix all ingredients except pork and place in slow cooker.
Put pork sliced in cooker and cook on low for 6 hours.
Serve with wild rice and fresh broccolli. A really nice meal!