Slow-Cooker Cajun Chicken Pasta
Tee Lee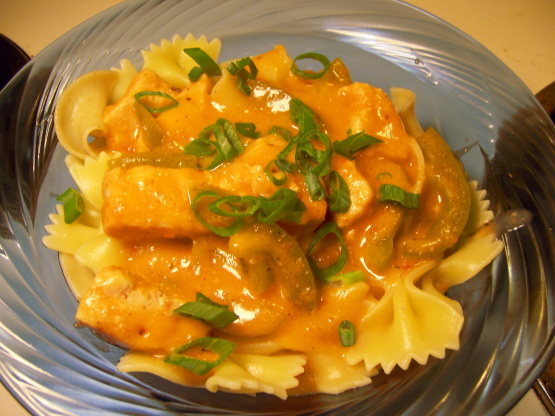 From Sandra Lee Slow-Cooker Recipes. Chicken breast pieces are slow-cooked in a cajun alfredo sauce with tomatoes and red bell peppers, then served over pasta. ***After making this again, I do agree with the reviews that this is much too watery. I will leave the original recipe posted as-is since it is from a cookbook, but I recommend leaving out the chicken broth. Liked, but wasn't in love. Dish was easy to make. I forgot to buy peppers at the store so that was omitted, and didn't have 'Cajun seasoning' but had Tony Chachere's so used that. I was lazy and shredded the chicken in the crock pot and my husband didn't like that but besides that it pretty good.
In the slow-cooker, stir together chicken, alfredo sauce, tomatoes and juices, chicken broth, peppers and cajun seasoning.
Cover and cook on HIGH 3-4 hours, or LOW 6-8 hours.
Cook pasta according to directions on package, serve chicken and sauce over cooked pasta and garnish with chives if desired.