Cajun Chicken Stew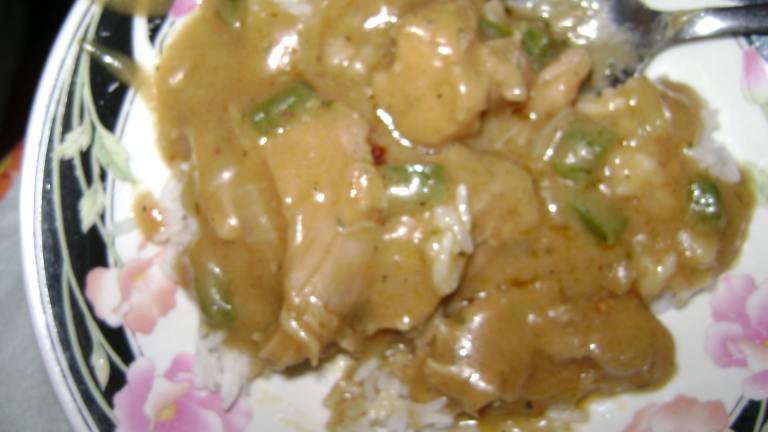 A simple chicken stew from Cajun Country. Momma made this once a week. Real Cajun food.
Ready In:

1hr 15mins

Serves:

Units:
Nutrition Information
directions
Season the chicken with salt and pepper to taste (The chicken can be marinated in olive oil and black pepper overnight. Add salt last minute if marinated) Make a dark roux- In a heavy iron skillet (prefer cast-iron), heat the vegetable oil over medium heat.
Add the flour.
With a wooden spoon, stir constantly and thouroughly, until the flour mixture reached an even chocolate color, about 15 minutes (black flecks means it's burned and will be bitter. Start over).
Carefully add the onions, celery and Bell pepper.
Stir constantly for 60 seconds.
Add Garlic, stir to mix, and add the chicken.
Stir to coat the chicken with the roux mixture.
CAREFULLY and slowly, add the chicken stock.
Chicken mixture can be transferred to a larger pot at this point. A Dutch oven is recommended.
Cover the chicken with water, bring to a boil.
Place the lid on the pot, reduce heat and simmer for 45-50 minutes.
Stir occasionally, Sauce should be thickened.
Just before serving, add chopped parsley to taste, season with salt and red pepper to taste.
Serve over hot white rice.
Hint: For saving leftovers, store the rice and the sauce in seperate containers.
This prevents the rice from getting soggy.
Submit a Recipe Correction
Join The Conversation
Every good Cajun meal starts with a roux and the trinity (onions, celery and bellpepper) so don't skip these ingrediants. I use a wisk to keep roux stirred. do not stop stirring for longer than 20 seconds as roux is sensitive to heat and can seize up in seconds. I added peas and more Cajun seasoning ( red pepper, black pepper etc if you do not have Tonys seasoning). great recipie.

i made this tonight for dinner. i didn't have any celery, or red peppers. i wasn't sure if i really made it right, since i felt like it was bland. so i ended up adding some spices in - cayenne, paprika, oregano, along with some crushed red pepper flakes. i also added a little chicken bouillon to boost the flavor of the chicken broth that's in the sauce. all in all it's pretty good.

This was absolutely delicious! I followed the recipe exactly as written and was very pleased. My gravy was a nice rich brown, the chicken was fall-off-the-bone tender and the spices perfect for my crew. It is also a safe dish for my grandchild with soy, egg, peanut and shellfish allergies. This will be a regular dish in our home.