Nice, easy recipe for the slowcooker. Can use chops, ribs or a roast....boneless or bone-in.
Directions
Spray inside of 4- to 5-quart slow cooker with cooking spray.
Place pork inside slowcooker. Sprinkle with the salt and pepper. Place garlic and onion slices over top.
In a small bowl, whisk togther remaining ingredients. Pour over meat.
Cover and cook on low for about 8 hours or until done.
Most Helpful
Excellent recipe - easy and delicious. I used a boneless Boston Butt cut, slightly over 3 lbs. Used a yellow onion - will use a Vidalia once they come back into season. Sauce was yummy, but a bit thin, so I took the lid off for the last half hour to thicken up the sauce a bit. Definitely a keeper!
Parsley, you are truly brilliant. Besides yielding a magnificent and flavorful pork roast, if you mix together all the ingredients except for the onion and the meat, you have about the best barbecue sauce on the planet -- Wow! Spectacular flavor! Anyway, I made this, just as you listed it in my large Crock Pot, using a 3 1/2-pound bone-in pork shoulder roast (cheap cut, $1.19/pound) and it could not have been better. I didn't "pull" the meat in the traditional sense and/or de-bone the roast. My wife and I just pulled away chunks of the super-tender meat with a fork, dipped each piece into that great sauce, and piled it on to Heiner's brand "Sunny Buns". There simply is no better sandwich than this. This is not just a "keeper" recipe -- this recipe leaps waaaay beyond that honored description. My wife and I both want you to know that we REALLY appreciate your having shared this fine recipe. Thank you so much! pat, the old bone man. *.*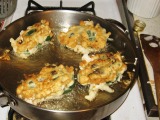 I'm sorry, but although we thought this was fairly good, it did lack something. I followed your directions exactly, but I think next time I may add some mustard or peppers, etc. to give it that extra flavor.