Slow Cooker BBQ Beef Stew
Annacia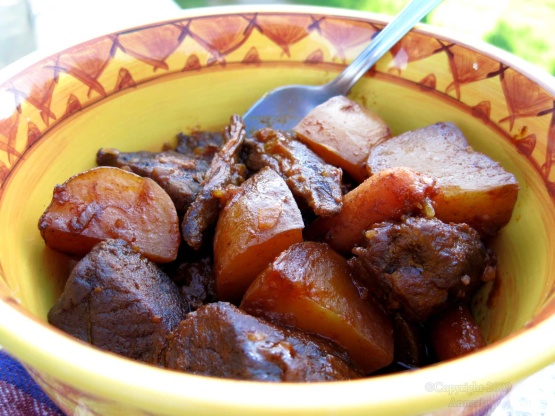 This recipe comes from kraftfoods.com. It sounded good and comforting for the winter months. I have made some adjustments to the recipe. Remember not all slow cookers are created the same, adjust the cooking times accordingly.
We really enjoyed this stew. I like the addition of the bbq sauce, gave it a little sweet taste. My husband said it made the peas taste like baked beans. I did add a half of can of tomato soup as it was drying out half way through the cooking cyle, plus we like our stew soupy.
In a nonstick skillet, heat the oil and brown the meat in batches.
As the meat browns transfer to a 5 quart slow cooker.
Pour in 1/2 cup of the barbecue sauce, sprinkle with the coffee granules.
Top with onions, carrots and potatoes; cover with lid and cook on low for 7 to 8 hours.
Turn heat to high, stir in thawed peas and remaining 1/4 cup barbecue sauce; cover and cook an additional 30 minutes or until heated through.