CHEFinLA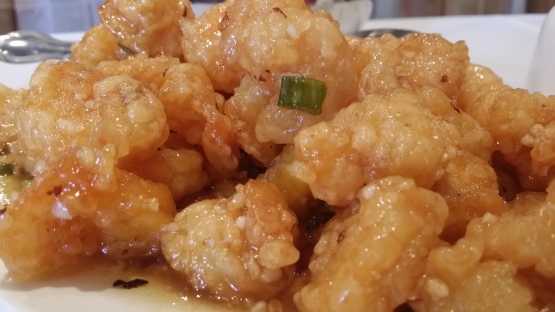 This recipe comes from the Yang Chow restaurant in the Chinatown section of Los Angeles. It was in the March 2008 issue of Bon Apetit in the R.S.V.P. section. When the chef was developing this recipe the slick cornstarch coating caused the shrimp to slide off the plate, hence the name! Serve this slightly sweet and slightly spicy dish with a side of steamed rice.

My husband and I used to love going to Yang Chow when we lived in LA and this recipe is the "real deal." The shrimp is sweet and tangy and crunchy and amazing! The only change I would recommend when making this is to make the sauce first, then let it sit and simmer (very low) while you are frying the shrimp. That way the shrimp is still nice and crispy when served.
Last night, I was craving this but I didn't have any shrimp, so I tried it with chicken. I cut the raw chicken into bite-size pieces, then coated with cornstarch, sprayed a foil-lined pan with Pam, spread the chicken out in a single layer on the pan, then sprayed again with Pam. Baked at 400 for about 10-15 minutes, flipping halfway through. (I made the sauce as directed.) It came out great! I still prefer the shrimp, but baking the chicken made it healthier and quicker. Next time, I'll try doing the shrimp the same way and see if that works too.
Thanks for sharing this, Leslie!
Mix shrimp and 6 tablespoons cornstarch in a large bowl to coat.
Mix remaining 4 teaspoons cornstarch and 4 teaspoons water in a small bowl to blend.
Heat oil in heavy large skillet or wok over high heat.
Working in batches, fry shrimp until cooked through and golden on both sides, about 3 minutes.
Using slotted spoon, transfer cooked shrimp to plate.
Drain all but 1 tablespoon oil from wok and heat over medium-high heat.
Add garlic, sugar,cayenne and salt; stir constantly until garlic begins to brown, about 15 seconds.
Add tomato sauce,vinegar,and sherry;stir water/cornstarch mixture if separated and add to sauce.
Cook until sauce boils and thickens, stirring constantly, about 1 minute.
Add reserved shrimp to sauce and stir to coat.
Remove from heat and add 1 cup green onions to sauce and toss.
Transfer to plate and sprinkle with remaining green onions and serve.