Anke R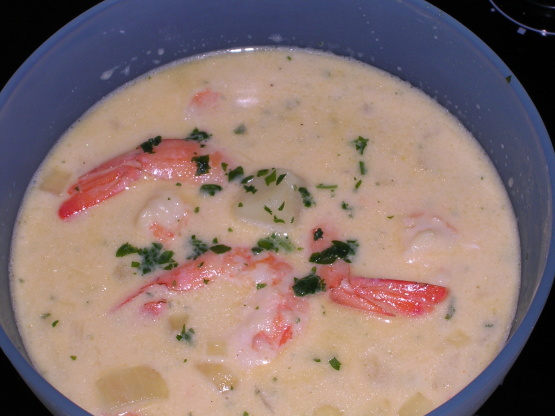 A recipe adapted from a 1992 issue of Woman's Day. This recipe was from an article on family recipe traditions during the holidays. The person who shared this recipe said this was a recipe her family makes for Christmas Eve. You might also want to make a few extra shrimp to use whole as a garnish on top of each bowl.

This was wonderfully appealing and tasted marvelous. It is perhaps thinner than other chowders but is just fine as is because of all the vegetables and shrimp. I took some other reviewers' suggestions to heart and made my own hashbrowns by cubing and parboiling some potatoes, setting some aside to be fried for a garnish. I used skim and evaporated milk and fish stock made from shrimp shells rather than the water. I can appreciate why this is your friend's Christmas Eve tradition, Heather.
Saute onions in butter in a large skillet until tender, about 5 minutes or so.
Add water and bring to a boil.
Add shrimp and cook 3-5 minutes, or until no longer translucent in center(be careful not to overcook them).
Remove shrimp and place in a covered bowl.
Add potatoes to the same pan, and season with salt & pepper to taste.
Simmer for about 4-6 minutes, stirring as needed, until potatoes are tender.
Add milk and half and half and bring to just a boil, stirring occasionally.
Once it just comes to the boil, remove from heat and stir in the cheese until melted.
Add shrimp back to the pot along with parsley, reserving a small portion of the parsley for garnishing if desired.