Silver Palate Jalapeno Chili
Prep 10 mins
Cook 50 mins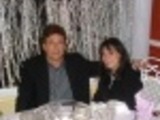 From the famous Silver Palate caterers. Great one-dish party fare. Serve with crusty bread and a hearty red wine. (Can be prepared 2 days ahead and refrigerated. Just reheat before serving.)
1 lb hot Italian sausage, cut into 1-inch pieces
1 lb sweet Italian sausage, cut into 1-inch pieces
1⁄4 cup water
1⁄4 cup olive oil
1⁄2 lb onion, coarsely chopped
3 tablespoons minced garlic
2 lbs ground chuck
3⁄4 lb green bell pepper, coarsely choppd
3⁄4 lb red bell pepper, chopped
1⁄3-1⁄2 lb green jalapeno, seeded and cut into 1/8-inch dice
3 (36 ounce) cans Italian plum tomatoes, drained
1 cup dry red wine
2 tablespoons tomato paste
1 cup minced fresh parsley
6 tablespoons chili powder
3 tablespoons ground cumin
2 tablespoons dried oregano, crumbled
1 tablespoon dried basil, crumbled
1 tablespoon salt
2 teaspoons fresh ground pepper
1 1⁄2 teaspoons fennel seeds
2 lbs fresh Italian plum tomatoes, quartered
grated monterey jack cheese or grated cheddar cheese
sliced green onion
Directions
Combine sausages and water in heavy large skillet over medium heat. Cook until sausages are brown, stirring frequently, about 10 minutes. Transfer sausages to paper towels and drain.
Heat oil in heavy Dutch oven over low heat. Add onions and garlic. Cook until translucent, stirring occasionally, about 7 minutes.
Increase heat to medium. Add ground chuck and cook until well browned, mashing with fork and stirring frequently.
Add sausage, bell peppers and chilies. Cook until peppers are wilted, stirring frequently, about 10 minutes.
Mix in canned tomatoes, wine and tomato paste. Stir in herbs and spices. Simmer 10 minutes, stirring frequently.
Add fresh tomatoes and cook 10 minutes. Tip pan and degrease.
Spoon into bowls.
Pass cheeses, sour cream, and onions separately.
Reviews
Most Helpful
Great! We used ground sirloin instead of ground chuck in a sorry attempt to reduce the number of calories ;-) and we used reduced-fat cheddar and light sour cream as garnishes. The one major comment I have is that we found that this made 21-22 servings (1.5 cups each). We found 1.5 cups to be plenty of food because this chili is loaded with meat and vegetables. Thanks for posting!
the recipe hearty and tasty
This was perfect for us tonight. Since we are snowed in today, and the playoffs on I decided to invite the neighbors for dinner and football. As to the recipe we ALL loved it.Made recipe exactly as written, except used 1 pound green bell pepper, and 1/2 pound red. The flavor and taste were exceptional. I might decrease the chili powder next time. The seasonings were fantastic, and made for a nice neighbor get together. There could many variations to this recipe but I suggest keeping this recipe as is, if you want to try. Made for Potluck tag.