Ruby-Glazed Corned Beef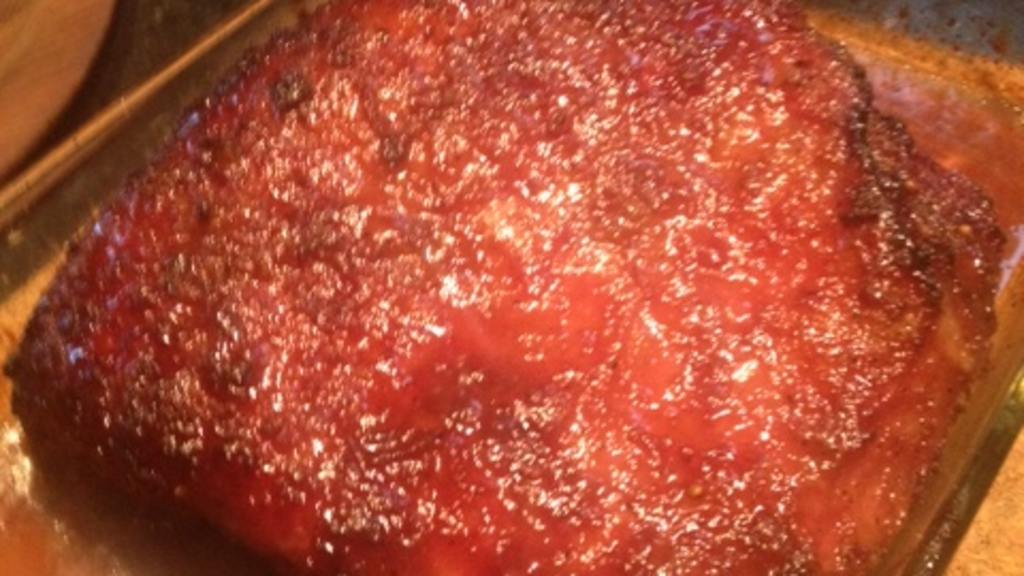 Ready In:

4hrs 30mins

Ingredients:

20
directions
Place beef in heavy large pot. Stud each onion with 4 cloves. Add to pot with carrots, celery, garlic and peppercorns. Cover with water. Bring to boil over medium heat. Reduce heat, cover and simmer until beef is tender, about 3-1/4 hours, turning beef every hour. (Can be prepared 1 day ahead. Refrigerate beef in cooking liquid. Bring to room temperature before baking.).
For sauce: combine first 11 ingredients in heavy medium saucepan over medium-low heat. Stir until jelly ismelted. Let cool at least 30 minutes. (Can be prepared 1 day ahead.).
Position rack in center of oven and preheat to 350 degrees. Drain beef and pat dry. Arrange fat side up in large roasting pan. Cut off any excess fat and discard. Spread coarse-grained mustard over beef. Pour 2-1/2 cups sauce over beef. Sprinkle with sugar. Bake until beef is glazed deep rich brown, basting every 15 minutes, about 45 minutes.
Transfer to large platter. Spoon some of sauce over top. Serve immediately, passing remaining sauce separately.
Join The Conversation
Excellent! Truly a step above a standard corned beef. I made as directed, but my flat cut was only 3.5 lbs. I didn't have whole cloves so just added some ground to the cooking water. I used 1 bottle of Guiness in the cooking water. I loved that you can do the lengthy portion the day before. It made dinner pretty quick to put together after work. This makes a very elegant presentation & I would certainly use it for guests. I served it with Recipe #325034 , potatoes & carrots. I'm a little disappointed that this recipe appears to be not very well used & not many reviews. This one is certainly worth a try! It's head & shoulders above a basic recipe and not much work. Thanks for the great recipe, Jackie!

This is really good! I added the cabbage to the "stock" that the corned beef was cooking in after I took out the beef and it made the cabbage very tasty! I also used the seasoning packet the beef came with instead of the peppercorns. In the sauce, I had omitted the lemon and orange peel because I had forgotten to put it in and had tossed the peels before I realized I needed it and had used cheery jam that I had canned this summer instead of using the jelly it called for. In the glaze, I didn't use the type of mustard it called for since I didn't have any on hand so just used dijon mustard and the contrast of flavors were amazing! The salty, sweet, tangy, and mustardy all came together making a beautiful and delicious meat to eat!
RECIPE SUBMITTED BY
I didn't start cooking until my early 20's, even though I come from a family of accomplished and admired home cooks. While I grew up watching my Italian grandmother in the kitchen, I remained uninterested in trying anything on my own. As a young lady, I was known for being particularly ignorant in the kitchen, with no idea how to even make a hot dog! All this changed, however, when I got engaged. I realized it was time to let my inherent talents out of the bag. At the time, the New York Times had a weekly column called The 60-Minute Gourmet by Pierre Franey. Each week, I would follow these recipes diligently, and taught myself to cook that way. From there, I began to read cookbooks and consult with relatives on family recipes. At my ripe old age now, I feel I know enough to put together a very pleasing meal and have become accomplished in my own right. Having an Irish father and an Italian mother, I'm glad I inherited the cooking gene (and the drinking one too!). One thing I have learned is that simpler is always better! I always believe cooking fills a need to nurture and show love. After being widowed fairly young and living alone with my dog and cats, I stopped cooking for awhile, since I really had no one to cook for. I made care packages for my grown son occasionally, and like to cook weekly for my boyfriend, so I feel like I am truly back in the saddle!!
View Full Profile