Silver Palate Carrot Cake
Prep 15 mins
Cook 50 mins

This is my hands down all time favorite carrot cake recipe from the Silver Palate cookbook.
Make and share this Silver Palate Carrot Cake recipe from Food.com.
butter, for greasing the pan
3 cups unbleached all-purpose flour
3 cups sugar
1 teaspoon salt
1 tablespoon baking soda
1 tablespoon ground cinnamon
1 cup corn oil
4 large eggs, lightly beaten
1 tablespoon vanilla extract
1 1⁄2 cups walnuts, shelled, chopped
1 1⁄2 cups shredded coconut
1 1⁄3 cups carrots, cooked, pureed
3⁄4 cup crushed pineapple, drained

CREAM CHEESE FROSTING

8 ounces cream cheese, at room temperature
6 tablespoons unsalted butter, room temperature
3 cups confectioners' sugar
1 teaspoon vanilla extract
1⁄2 lemon, juice of
Directions
Preheat the oven to 350°F Grease two 9-inch springform pans.
Sift the dry ingredients into a bowl. Add the oil, eggs, and vanilla. Beat well. Fold in the walnuts, coconut, carrots, and pineapple.
Pour the batter into the prepared pans. Set on the center rack of the oven and bake until the edges have pulled away from the sides and a cake tester inserted in the center comes out clean, 50 minutes.
Cool on a cake rack for 3 hours. Fill and frost the cake with the cream cheese frosting.
Cream together the cream cheese and butter in a mixing bowl.
Slowly sift in the confectioners' sugar and continue beating until fully incorporated. The mixture should be free of lumps.
Stir in the vanilla, and lemon juice if desired.
Reviews
Most Helpful
This Carrot Cake is superior. My family and friends told me it was the best carrot cake they have ever had. I used baby food carrots instead of peeling, cooking, & pureeing and it came out absolutely fabulous. I would recommned making sure you use the 9 inch spring form pans. I used on huge spring form and had to cook the cake for almost 2 hours. It didn't burn, but the edges were a little browner than I would have liked. The frosting - oh my goodness! is the best.
Very good cake. Moist and not to spicy. Some carrot has all kind of spice in it but not this one. The cinnamon amount was perfect. I did not puree the carrot. I just used a very fine grater and grated the carrots. It came out just fine. Oh, and the frosting is to die for. I licked the bowl he he he. Thanks for posting the recipe.
A really good carrot cake. I see all kinds of additions, but usually stick to just carrot and spices in my cakes. However, the pineapple added a great tang and the coconut a lovely texture. Had to leave the nuts out as I'm allergic, but it still tasted great!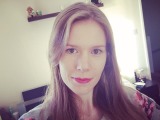 Halloween Central