Shrimp Wontons With Sweet Sauce
2Bleu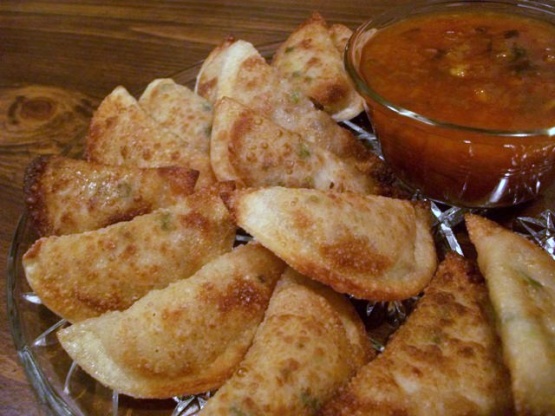 Yummy little appetizers that are fried crisp with a sweet dipping sauce. You could also opt to make little beggar purses and steam them to put in a soup. Great for OAMC too. :)
Shrimp filling

1⁄2 lb cooked shrimp, shelled, deveined and chopped into pieces

1

green onion, chopped fine

4

water chestnuts, chopped fine

1

egg white

1

teaspoon cornstarch
1⁄2 teaspoon salt
1⁄4 teaspoon black pepper

1

teaspoon soy sauce

1

tablespoon oil

Dipping sauce

1⁄2 cup pineapple juice

1

green onion, sliced on the bias
1⁄2 cup peach halve in juice (or 1 very ripe peach with skin and pit removed)

2

tablespoons orange marmalade

2

tablespoons ketchup

2

tablespoons rice vinegar

2

tablespoons sugar

1

teaspoon salt
1⁄4 teaspoon dry mustard

2

drops hot sauce (optional)

Other ingredients needed

2

tablespoons vegetable oil, for frying
WONTONS: Mix filling ingredients together thoroughly. Refrigerate mixture for 1 hour.
SAUCE: In a small saucepan, heat pineapple juice with the green onion. Simmer until green onion is tender.
Run the peaches and marmalade through a food processor till chopped very fine. Add to saucepan. Add remaining ingredients and simmer, stirring occasionally, until heated through and reduced to your desired thickness.
Meanwhile, Remove filling from fridge and place a spoonful into the center of each wonton wrapper. Lightly wet half of the edges of the wrappers with water. Fold the wrapper over the filling, forming a half moon (or triangle for square wonton wrappers) and seal completely. NOTE: you can freeze the wontons at this point for OAMC).
Over low to medium heat 2 tablespoons oil (more if/as needed) into a skillet. Fry wontons (in batches) until golden brown, about 1-2 minutes per side. Remove and drain on paper towels. Season with salt if desired. Serve with dipping sauce.
If freezing, thaw to room temperature before frying.