Peter J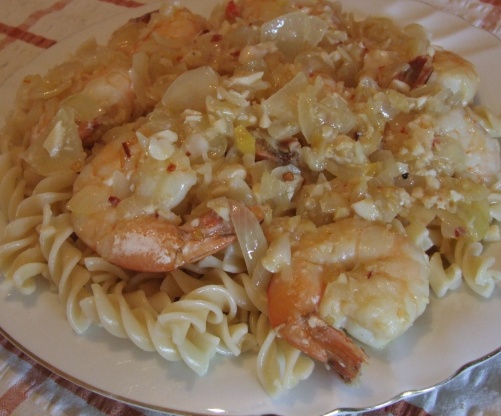 This is a recipe (method) my grandpa taught me many years ago. The good sauce could also be used for steaming clams or mussels, too. Then pour all over pasta, serve with a good garlic bread and salad and your sure to be in some sort of bliss. I hope you try and enjoy!

Very nice and so quick to put together! I thought if there was one change I'd make (not that it would affect the flavour) is that I'd add something like a few red bell peppers at the same time as the garlic just for a bit fo extra color. Really enjoyed it and makes a great satisfying meal.
Start pasta water.
In a large sauté pan melt butter & olive oil (low - medium heat).
Start by adding the onions when they have some color (5 minutes or so).
By this time the water should be almost ready.
Add garlic and red pepper flakes to the onion, sauté for about a minute or 2. Stir not to burn. (burnt garlic YUCK must start over if you do this).
Add pasta to the water and salt as you would.
To the sauté pan add shrimp(if using clams and mussels you need to hold tight for a few).
Cook the shrimp for about 3 minutes.
Flip the shrimp.
Keep an eye on the pasta cook till a'dente (don't forget to save some water).
Add the lemon rind, juice and wine.
Cook about 4 more minutes or until done.
Add pasta water to thin sauce to how thin you like.
Dump drained pasta in a big bowl (this is for the shrimp and the clams or mussels).
When the shrimp is done, dump all over the pasta.
Serve YUMMMY.
O.K. now if you are using the clams and mussels don't add the shrimp. Just skip the whole shrimp thing. After the garlic softens add the lemon rind and lemon juice and wine and pasta water, bring to a boil. Add the clams and or mussels, cover and steam till they open. Throw any unopened ones. Dump all over pasta.
Enjoy!
2 for the price of 1 not bad, LOL.