lazyme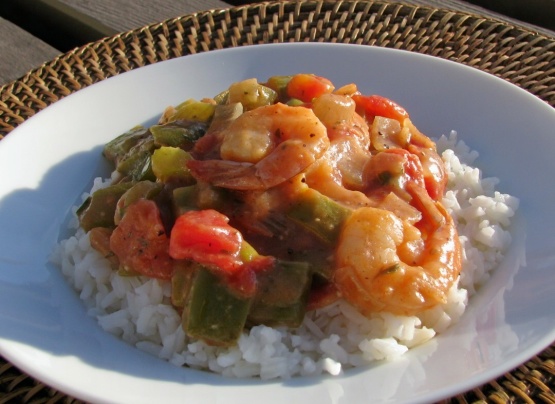 This is a yummy comfort food recipe. I like to serve it over rice. Be careful not to let your roux burn or you'll have to start over! Recipe slightly adapted from Paula Deen.

Top Review by lazyme
Yummy! This was simple and so good. I found that it cooked a little faster for me than what the recipe states but it's probably because I cook with gas and things usually cook a little faster. I did use thawed frozen cooked shrimp and just added them at the end just for the shrimp to get heated through. Thanks for sharing this nice keeper. Made for For Your Consideration tag.
Melt butter in a large pan over low heat. Gradually whisk in the flour until it forms a paste. Continue cooking, stirring occasionally with a wooden spoon, until it turns a caramel color, approximately 15-20 minutes.
Add your onions, green pepper, celery and garlic and cook over low heat for about 5 minutes or until the veggies get limp.
Add your shrimp and stir to coat in the roux. Then add black pepper, cayenne, Cajun seasoning, green onions, parsley and the Tabasco (to taste).
Add 1 cup of water and stir until incorporated. Add the tomatoes with their juice and stir to blend. Taste for seasoning. Add the salt, starting with 1 t and adding more if needed. Bring the whole mixture to a boil then reduce the heat to low and simmer for about 10-15 minutes, until the shrimp get firm and pink. Once the flavors are nicely blended, you can serve and enjoy!