gailanng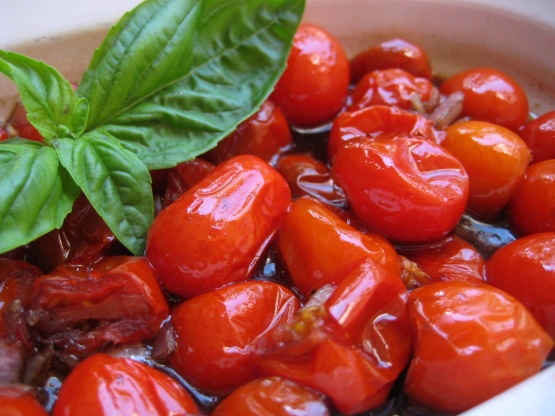 From Rachael Ray, this is yummy! French and Spanish inspired!

Sharon, I dumped the whole mixture including whole cherry tomatoes from our CSA box, in a small baking dish and roasted about 25 minutes. Garnished with fresh basil from our garden and served with grilled kalamata olive bread. Served with a modified salade nicoise for an easy dinner meal tonight. Used sherry wine vinegar and we like the way the mixture starts off sweet to the palate and the afterburn from the red pepper flakes. Great combination! Thank you! Reviewed for Veg Tag/July.
Preheat oven to 375 degrees F.
Preheat a skillet over medium high heat.
Add extra-virgin olive oil, garlic and onions.
Saute them 2 to 3 minutes then add cherry tomatoes.
Turn tomatoes to coat with oil.
Add sherry vinegar or sherry, sugar, pepper flakes and salt.
Toss to coat tomatoes and roast for 18 to 20 minutes.