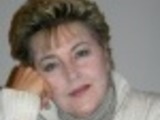 I like biting into a deviled egg and it bites me back! These measurements are approximate. I actually use more cayenne pepper and horseradish than here, but I needed to get a handle on the amounts for sharing my recipe, and these proportions are good. I have not included the cooking time for boiling the eggs.
Directions
Cut eggs in half lengthwise, carefully removing yolks into a medium-sized bowl,(I use a Pyrex 2-qt glass bowl) and placing the whites onto a serving plate.
Mash the yolks in the bowl with a fork until they look like coarse cornmeal.
Mix in dry ingredients first: white pepper, cayenne, salt and ground mustard; next mix in wet ingredients: mayonnaise, relish, yellow mustard and horseradish.
Stir until well blended. Adjust seasonings to taste; adjust amount of wet ingredients for texture, if necessary.
Fill egg white halves with yolk mixture, using a teaspoon.
Sprinkle with sweet paprika and press a single pimento-stuffed green olive into the yolk to make them festive!
Most Helpful
Eggscellent! Followed the recipe for 18 pk of eggs. Tk the advice of other posts and adjusted horseradish to 1/2 tho-perfecto! Thanks for sharing; it'sour new fav Deviled eggs recipe!

Made these for New Years Eve 2011 and scaled the recipe down to 6 eggs. These little "bites" are indeed very good. Made exactly as stated and would, like another reviewer, probably cut down on the horseradish next time. The spices made them different from other deviled eggs, they were fun to make and very tasty.
Thanks for posting.

I love horseradish, so jumped at the chance to try these. I did find however that the horseradish overpowered the other ingredients. I *will* be making them again, but will probably reduce the amount by half. Thanks for posting. I looking forward to doing this again.