Sesame Spice Cake With Chocolate Orange Glaze
Pamela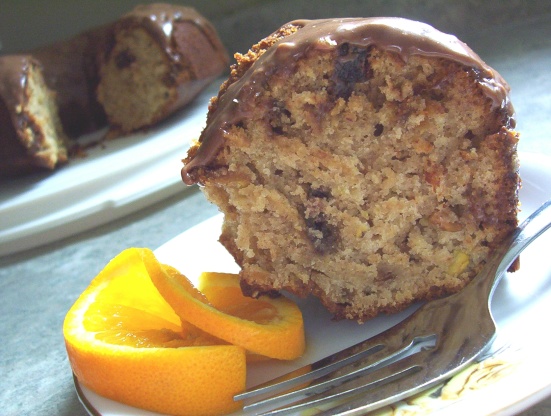 A rich moist spice cake that is great served by itself or topped with a scoop of ice cream. This cake gets moister and the flavor is better after it sits overnight; but is also delicious freshly made.

I've always been frustrated with people who rate recipes and then proceed to tell how they changed it so that it doesn't even faintly resemble the original recipe! Well now, I've done it, but have to say in my defense that it is because I am vegan and needed to modify this recipe for my diet, but only omitted the dairy and eggs and used vegan substitutions. Everything else stayed the same. If you like spice cakes, you will love this one. My son-in-law said it tastes like autumn and could picture sitting out on the front porch on a cool fall evening with a cup of hot coffee and a big chunk of this cake. Amen. When I saw the unusual ingredient list for this cake I had to try it, and it turned out to have a unique, intriguing flavor. If you are vegan this is very veganizable and produces an outstanding cake. The changes: non-hydrogenated margarine instead of butter, 3 heaping tsps. ground flax seeds plus 1/3 c. orange juice instead of 3 eggs, 1 cup soft silken tofu instead of yogurt. The cake is dense and moist. Mine took closer to 55 minutes to bake than the 40 or 45 called for. Now, having said that I love this cake, I realize that pistachios and bittersweet chocolate are on the ingredient list, but I think walnuts or pecans would be more appropriate than pistachios, and a plain orange glaze better than chocolate. And having said that, I am so impressed with whoever came up with this cake because it is an ingenious combination of ingredients that I would never have thought of. Whatever kind of nut you use and whatever flavor of glaze, the cake is delicious. I can't wait to see what others think of it.
For the cake, preheat oven to 350 degrees; grease and lightly flour a 10 cup bundt pan.
Chop the dates in food processor by pulsing several times; place in a small bowl and cover with hot water; allow to stand while preparing remaining cake ingredients.
In medium mixer bowl, combine the flour, salt, baking powder, baking soda, ground cloves and cinnamon; set aside.
In large mixer bowl, beat the butter and granulated sugar until light and fluffy; beat in brown sugar, tahini and while continuing to beat, add eggs 1 at a time.
Gradually beat in flour mixture, alternating with yogurt; beat for 2 minutes on medium speed.
Stir in 1/4 cup of orange juice and 1 tablespoon zest, drain the dates and stir into batter until evenly distributed; add chopped nuts and stir to distribute.
Turn into prepared pan and bake for 40 to 45 minutes or until tester comes out clean when inserted off center; cool 10 minutes and turn out of pan onto plate; allow too cool completely before glazing.
For the glaze, in a small saucepan, add the butter, chocolate, cream and orange juice; cook over low heat, stirring constantly, until the mixture thickens; remove from heat.
Stir in vanilla and gradually add confectioners' sugar; beating until smooth and thickened.
Stir in orange zest and pour evenly over cake, allowing glaze to run down sides, scrape up excess that drips into the center and round edges, pour over cake.