Seafood Pasta W Jalapenos
KateL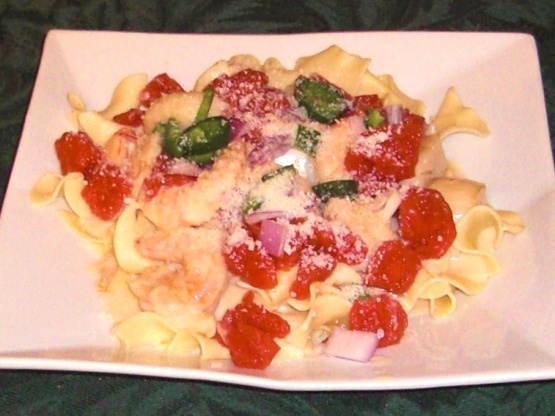 My favorite restaurant is a tiny, Italian restaurant that is run by a lovely couple originally from Naples, Itlay. They came to So Cal by way of New York. Their dishes all have a different twist to them. Seafood is strongly featured in their menu. I've moved out of the area and am copying my favorite recipes. I used Alfredo Sauce for the alfredo but did thin it out for this particular recipe. Feel free to add lobster, crab, clams or langastinos for variety. The melding of tastes and textures in this recipe is quite unusual. The veggies for the top are all raw and chilled while the seafood and pasta is cooked an hot. One of my personal favorites.

Top Review by KateL
DH nominated for Top 20 of 2009, already! This was just the ticket for us: lightened alfredo sauce and crisp fresh accents of tomatoes, red onion and jalapeno with our favorite seafood: shrimp and scallops. (I bought fresh shrimp and scallops from Wegman's to ensure top quality ingredients.) I will make again very soon. Thanks for posting, racrgal! Made for Top Favorites of 2008 Tag as recommended by loof.
Dice tomato, jalapeno and red onion. Do not combine. Chill while preparing rest of recipe.
Place olive oil in large skillet. Add shrimp, scallops and garlic and cook shrimps curl and turn pink.
Heat the alfredo sauce and thin it down a little with milk. I prefer a lighter alfredo is with the seafood.
Stir the seafood into the alfredo.
Place pasta on plate and top with seafood mixture.
Top with the diced tomato, jalapeno and red onion.
Sprinkle with fresh grated parmesean.