awalde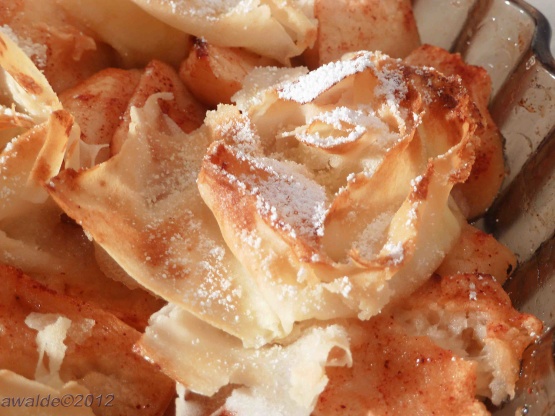 From one of my favourite shows Australian Ready Steady Cook and Chef Manu Fiedel. Have estimate icing sugar and whipped cream amounts (think it would also be nice served with custard. Cooking and preparation times are estimated.

Top Review by awalde
Pat, your recipe is an authentic delish! It's sooo easy and so beautiful.
I did not have canned apples and I used fresh ones. I simply prepared the recipe as described prior placing the filling I baked the apples about 15 minutes until slightly soft.
I used frozen fillo which was a little dehydrated. I had to brush the sheets with water and then shape them to roses. In any case this was not a big problem and the roses came out very cute and impressive.
Thanks a lot for this recipe, it's a real winner and I will do it again!
Preheat oven to 190C fan forced (conventional 210C).
Combine apples, cinnamon and sugar in a bowl and spoon mixture into a rectangular ceramic baking dish.
Place fillo on a clean work surface and lightly spray one filo sheet with olive oil spray.
Fold each in half crossway and scrunch into a rosette sheape.
Place on the apple mixture, repeating with remaining fillo.
Lightly spray the pastry again.
Bake for 15 minutes or until golden.
Dust with icing sugar and. cut and serve with cream or I think custard would work well too.