Kentucky Apple Festival Apple Pie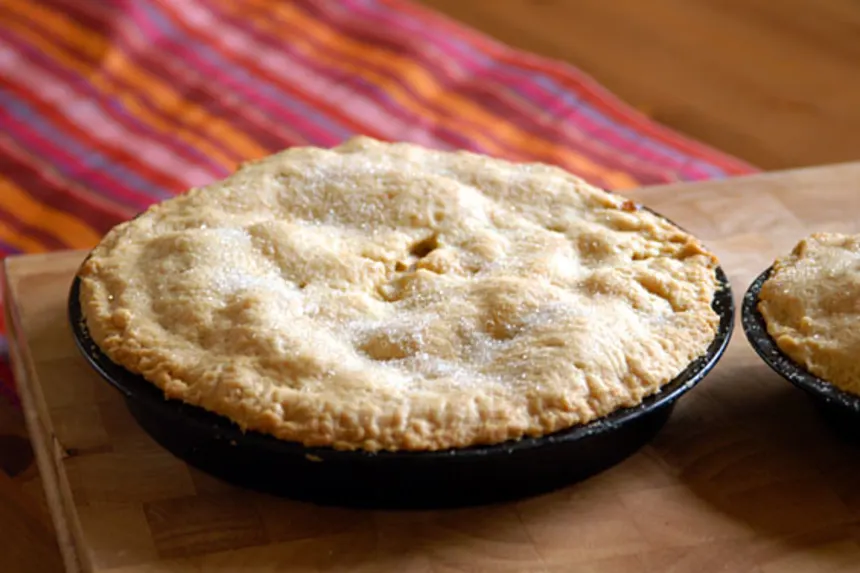 photo by -Sylvie-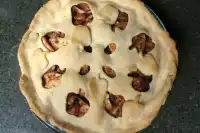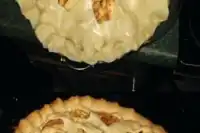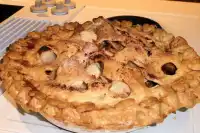 Ready In:

1hr 15mins

Ingredients:

10
directions
Crust: Mix shortening, 1/3 cup butter and flour.
Add boiling water, salt and baking powder.
Mix well.
Separate into 2 balls; place between 2 pieces of wax paper; roll.
Filling: Peel, core and slice apples.
Lightly mix cinnamon and sugar with the apples.
Heap into pastry lined pie pan and dot with 1 1/2 tablespoons butter.
Cover with topping crust; slit to allow steam to escape.
Bake at 425°F for 15 minutes then reduce temperature to 350° and continue baking 45-60 minutes.
Reviews
After making many creative apple pies my husband asked if I could make an old fashioned basic apple pie. This was the delicious recipe I used. The apples came out crisp and the pie was delicious. I did reduce the amount of sugar as I mixed pears and apples into the pie since both fruits were falling off the tree. The crust came out well and was easy to make. Highly recommend.

 
Tweaks
This recipe turned out great! I did, however, substitute spelt flour for all of the flour and would not recommend that anyone else do the same. The crust was VERY easy to roll! I even used the same crust recipe to make cinnamon rolls (roll it thin, butter, sprinkle cinnamon and sugar, roll, slit, bake)and know that it would have been better with at least half wheat flour. I will use this crust recipe again and again...with wheat flour!

 

I made the pie over the weekend and it was very good. I made a few changes: I used store bought pie crust because I was in a rush; I used granny smith and golden delicious apples for the different flavors; I used apple pie spice instead of just the cinnamon and about 1/2 cup of sugar. It turned out delicious and very flavorful. I also baked it for an hour on 350 and did not start it out on 425 because my oven gets very hot and I was afaid the crust would get too brown. I was glad I did because the crust turned out just the right color and my husband said it looked like a picture of the perfect apple pie!!! I was pleased. Thanks for sharing this recipe.

 
RECIPE SUBMITTED BY
<p style=color: #212121; font-family: alexandriaflfregular, AppleGothic, Arial, sans-serif; font-size: 14px; line-height: 22px; margin: 0px; padding: 0px 0px 15px;><span style=color: #000000;>Kristen Doyle is the creator of the award winning website, Dine &amp; Dish. Since early 2006, Kristen has been sharing her favorite recipes, photographs and life stories with an ever growing audience of engaged readers.</span></p> <p style=color: #212121; font-family: alexandriaflfregular, AppleGothic, Arial, sans-serif; font-size: 14px; line-height: 22px; margin: 0px; padding: 0px 0px 15px;><span style=color: #000000;>Kristen has expanded her reach to include working with major brands (<a style=color: #f5866c; text-decoration: none; href=http://dineanddish.net/?s=bushs beans target=_blank>Bush&rsquo;s Beans</a>,&nbsp;<a style=color: #f5866c; text-decoration: none; href=http://dineanddish.net/?s=Green Mountain Coffee target=_blank>Green Mountain Coffee</a>,&nbsp;<a style=color: #f5866c; text-decoration: none; href=http://dineanddish.net/?s=hallmark target=_blank>Hallmark</a>,<a style=color: #f5866c; text-decoration: none; href=http://dineanddish.net/?s=Zatarains target=_blank>Zatarain&rsquo;s</a>&hellip;just to name a few) as well as providing editorial content and direction for nationwide print publications and websites. Her freelance writing career spans working with magazines on a local and national level as well as creating valuable web content for a variety of sites across the web.</span></p> <p style=color: #212121; font-family: alexandriaflfregular, AppleGothic, Arial, sans-serif; font-size: 14px; line-height: 22px; margin: 0px; padding: 0px 0px 15px;><span style=color: #000000;>Kristen is a busy mom of 4 young kids, loves to entertain, has a passion for photography, and believes in keeping things simple. An avid reader, a kind of runner, a horrible gardener, and the wife of an outstanding man, Kristen&rsquo;s ultimate life goal is to connect and create meaningful relationships with others.</span></p> <p style=color: #212121; font-family: alexandriaflfregular, AppleGothic, Arial, sans-serif; font-size: 14px; line-height: 22px; margin: 0px; padding: 0px 0px 15px;><span style=color: #000000;>Kristen is available for editorial and photography projects, speaking engagements and ambassador partnerships with your brand. If you are local to Kansas City, give me a ring &amp; let&rsquo;s meet for coffee! I hope we get the chance to connect!</span></p>
View Full Profile