MollyLin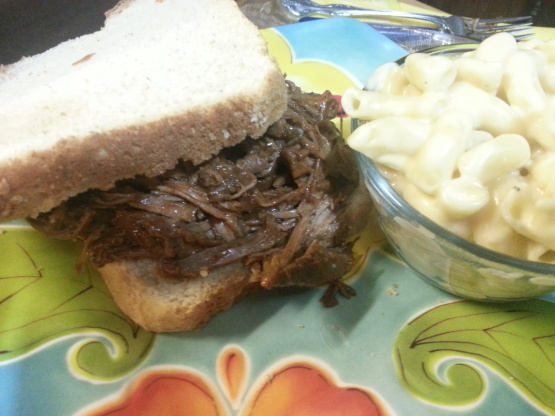 I got this from Quick Cooking magazine in 2006 and it is FANTASTIC! This is the only way I'll fix brisket. My kids love it! DH says it's the best he's ever had! Made this with my recipe Stir Fry Cabbage Plus More (#451085) for St. Patrick's Day 2011. This is a fresh brisket, not a corned beef brisket. Prep time does not include overnight marinade. You can lighten this up by using diet Coke, margarine or olive oil and low or no sugar BBQ sauce. Ya'll let me know what you think!

This was a great bbq recipe. I used about 4 1/2 pounds petit sirloin steaks because they were on sale and they turned out just fine. I added 4 whole cloves of garlic to the marinade just for some extra flavor. My meat turned out a little dry, but I think I let it sit too long so I can't really blame that on the meat. I shredded it and added more bbq sauce and some of the drained juices to make it more moist and flavorful. Served this with homemade macaroni and cheese for football night. It got rave reviews from my family! Made for PAC Fall 2012.
Combine dry seasonings, cover and set aside. Place brisket in a shallow dish or large heavy-duty resealable plastic bag. Combine cola & Worcestershire sauce; pour over meat. Cover or seal and refrigerate overnight. Drain meat; discard marinade. Rub seasoning mix over brisket; place in a large shallow roasting pan. Combine vinegar, butter & soy sauce; pour over meat. Cover and bake for 2 hours at 325; basting occasionally. Drain drippings. Pour barbecue sauce over meat. Cover and bake for 1 hour or until the meat is tender. Remove meat from pan; let stand 15 minutes before slicing. Serve with additional barbecue sauce if desired.