Schlotzsky's Asian Chicken Wrap
teresas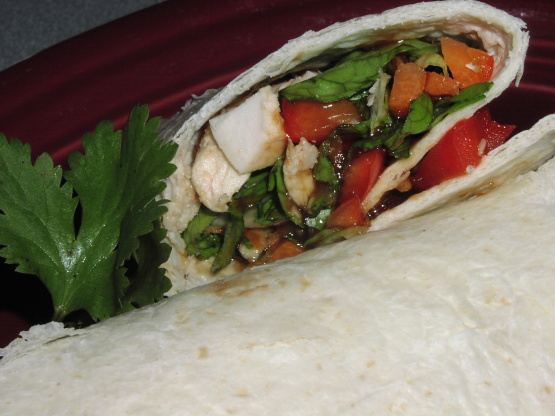 One of my favorite sandwiches is Schlotzsky's Asian Chicken Wrap. Found the ingredients but was unable to find the actual recipe. This is my version. Tonkatsu is a Japanese sauce that this available in most supermarkets or make your own, recipe included. Do not leave out the cilantro . . it's the most important ingredient. Cooking time includes making your own Tonkatsu sauce.

This was very good! I've never had this wrap at Schlotzky's but we enjoyed it at home. I didn't have sake, so substituted white wine. I did use the mirin and the sauce was good, but a little goes a long way as the flavor is quite strong. I made a full recipe and it made 6 reasonably sized wraps. Very healthy and tasty!
Make Japanese Tonkatsu sauce:.
In small sauce pan combine catsup, Worcestershire sauce, sake, ginger, garlic and sugar.
Bring to a boil over medium heat for 25-30 minutes, stirring occasionally, skimming off any foam.
Sauce will keep in the refrigerator for up to 4 weeks.
Marinate chicken breast in 1/2 cup of Tankatsu sauce.
Grill chicken and finely chop.
Build Wraps:.
Lay out four sandwich wraps (tortillas).
Down center divide chicken.
Add shredded romaine and iceberg lettuce, julienne carrots, fresh cilantro, toasted almonds and sweet chili pepper.
Top each with 2 tablespoons tonkatsu sauce (recipe above).
Roll: Bring in sides and roll from bottom to top.