Derf2440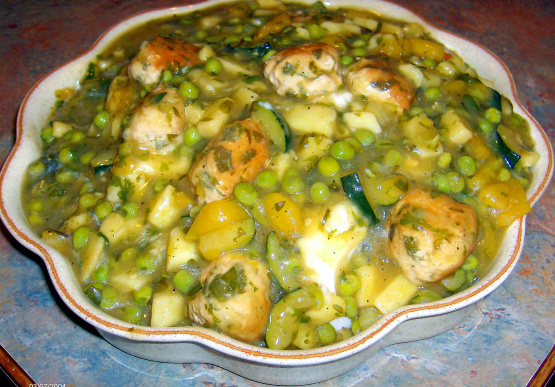 A light stew for the fresh vegetables of summer. Like the song says "Parsley, sage, rosemary and thyme" I found that even my picky eater went back for more.

Can't believe that I haven't reviewed this yet, as I've made this several times and absolutely love it! This really is best in the summer when the veggies and fresh herbs are at their peak. The rosemary and thyme come together nicely to create a scrumptious yet light herby broth. The only change that I make, is that I use diced new potatoes in place of sweet potatoes as I don't really care for sweet potatoes. Thanks for a great recipe!
Shred fresh sage leaves and mix with ground turkey.
Make meat into meatballs using about 1- 2 tablespoons for each one.
Heat oil in large pot over high heat.
Add meatballs to pot and cook until brown on all sides, about 6 minutes.
Remove meatballs from pan and set aside.
Add vegetables to pot and stir frequently, cooking for 5 minutes.
Add broth, meatballs and seasonings to pot.
Bring to a boil, reduce heat and simmer for 20 minutes.
Turn heat up to medium.
Mix cornstarch with cold water, add to pot and stir until thickened.