Scalloped Potatoes with Cream
Brenda.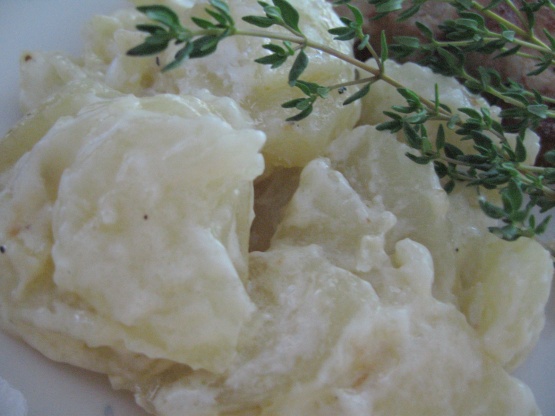 A very good recipe lightened with a little chicken broth. Good with all roasts.
1 1⁄2 tablespoons butter
1 3⁄4 lbs potatoes, peeled,cut into 1/8 inch thick slices
1⁄3 cup cream

3

tablespoons cream
1⁄3 cup chicken broth
Position rack in center of oven and preheat to 375F.
Rub ½ tblsp butter over 9 inch glass pie dish.
Arrange 1/3 of potato slices in dish.
Season to taste.
Repeat layering and seasoning with remaining potatoes in 2 batches.
Whisk cream and broth in small bowl.
Pour over potatoes.
Dot top with 1 tblsp butter.
Bake until golden, about 55 minutes.
Drizzle 3 tblsps cream over potatoes; bake about 15 minutes longer.
Cool 5 minutes before serving.