Scalloped Potatoes and Butternut Squash With Leeks
Prep 30 mins
Cook 50 mins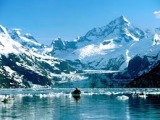 I love, love, love this recipe. It can be a little time consuming to make but you can prepare it in advance and then bake when ready. It is the creamy goodness of comfort food but gourmet enough to serve to guests. This comes from a favorite cookbook of mine, "Gourmet's Parties".
3 cups leeks, washed very well and then thinly sliced (about 6 large, white and pale green parts only)
1⁄2 cup unsalted butter
3 1⁄2 cups whole milk
6 tablespoons all-purpose flour
1 1⁄2 lbs potatoes (about 4 large)
1 lb butternut squash, peeled, seeded, quartered and cut into 1/8 inch slices
1 1⁄2 cups gruyere cheese, coarsley grated (about 4 ounces)
Directions
Preheat oven to 400 degrees.
Generously butter a 3 quart baking dish (at least 2 inches deep).
In a skillet, cook leeks in 3 tablespoons butter over medium low heat, stirring, until very soft.
In a saucepan, bring the milk just to boil (don't scald.just keep warm).
In another heavy saucepan, melt the remaining 5 tablespoons of butter over medium low heat and whisk in flour - cooking and constantly whisking for about 3 minutes.
Add heated milk in a stream, whisking, and bring to a boil.
Simmer this sauce, whisking, for 1 minute - or until thickened - and season with salt and pepper.
Peel potatoes and slice 1/8 inch thick.
Spread about 1/3 sauce in baking dish and cover with 1/3 potato and squash slices, overlapping them slightly.
Cover slices with 1/3 leeks and sprinkle with 1/3 Gruyere.
Make 2 more layers with sauce, potatoes and squash, leeks and Gruyere in the same manner.
Bake, covered with foil, in middle of the oven for about 20 minutes.
Remove foil and bake 30 minutes more, or until top is golden and vegetables are tender. Yum!
*If you prepare this in advance you may need to bake it a little bit longer*.
Reviews
Most Helpful
My, my, my! This is so delicious! Another winning recipe from LIG!!! I loved scalloped potates and butternut squash so I knew this would be wonderful!! I sent DH to the grocery store to pick up a butternut squash and he came home with a buttercup squash! Well, no time to go back to the store so decided to make do with what I had! Otherwise made this recipe as is. What a wondeful and beautiful potato dish! I will be making this again very soon! Thank you GF!! Made for KK Chef's Pick
OMG this is surprisingly great
Like LifeIsGood, I love, love, love this recipe! I made some modifications (and I'll do them again so as not to risk a different result — it was that good!) First, like another reviewer suggested, I used vegetable broth in place of the whole milk. Very happy with the creamy sauce that resulted. I also used Earth Balance margarine in place of butter. (I did use Gruyere cheese, but I can imagine leaving it out or using vegan cheese to make this a great dish for vegans.) I also didn't have quite enough leeks, so I added a half of an onion. I thought I had enough potatoes, but didn't so I used sweet potatoes. I know it sounds like a lot of changes, but the spirit of the recipe was still there and I absolutely LOVED it. Also, it took about 20 extra minutes to cook. But it's easy to test with a fork to make sure it's really tender. I think my version is a little lower calorie, and because it will serve more than the 6 indicated on the nutrition info, I don't even feel guilty about enjoying this wonderful dish. I'm putting this in my "good enough for company" book right now. Thanks for posting!!