Boomette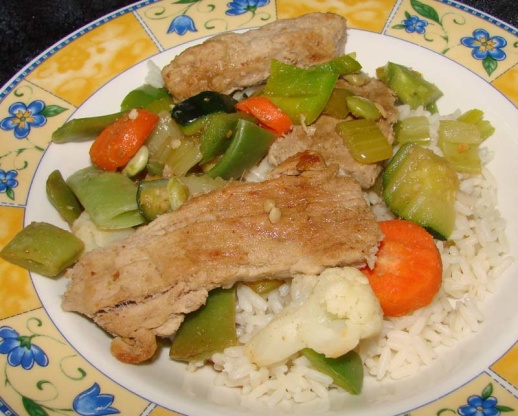 I found this in another one of my many cookbooks entitled Make It In Minutes. A wonderful combination of pork and stir-fry vegetables flavored with sesame oil, ginger and soy sauce.

I made this as a side dish without the pork. I used a 14 oz. frozen mix of broccoli, red bell pepper, green beans, sugar snap peas, and onions. I adapted it by stir frying the veggies in the oils with fresh garlic and ginger. I added some cornstarch to the broth, soy sauce, and vinegar (rice wine) and added that right at the end when the veggies were tender crisp. There was not as much of a punch of flavor as I'd have liked. Might do this next time with some sherry in place of the vinegar and a pinch of red pepper flakes. Still a good quick stir fry. Thanks for posting. Made for my Babes for ZWT4.
Slice pork across grain into 1/8-inch strips. To save time, you can buy pork that is already cut in strips.
Marinate in vinegar, soy sauce, sesami oil, garlic and ginger for 10 minutes.
Heat vegetable oil in nonstick pan until hot. Add pork and stir-fry for 3 to 5 minutes, until pork is no longer pink.
Add vegetables and chicken broth (or water). Stir mixture, cover and steam util vegetables are crisp-tender.
Serve over hot cooked rice and sprinkle with toasted sesame seeds, if desired.