twissis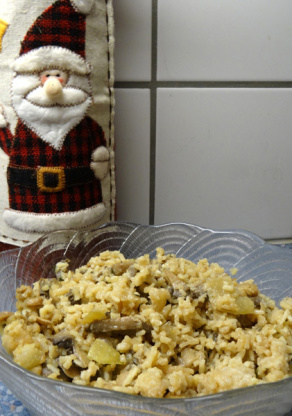 Good served with roast chicken, roast beef, or country fried steak and gravy. Note: 2 4-ounce cans of chopped mushrooms (drained) may be substituted for fresh mushrooms.

Boy this is just terrific, I love mushrooms, and this was perfect used in this manner. I also love beef consumme' (a retro thought from my childhood) so all and all this was a HUGE hit on the farm. I baked mine, kinda like a pilaf, and it came out perfectly. I wouldn't add anything else, this was just terrific the way it is. Happy March 1st Birthday, Kerfuffle! March 2010
Preheat oven to 350 degrees.
Saute onion and mushroons in butter.
Add rice, consomme, water, salt, pepper, parsley, and garlic powder.
Pour into greased two quart pyrex dish. Cover and bake one hour at 350 degrees.