Savory Cheese Muffins With Bacon and Chives
K9 Owned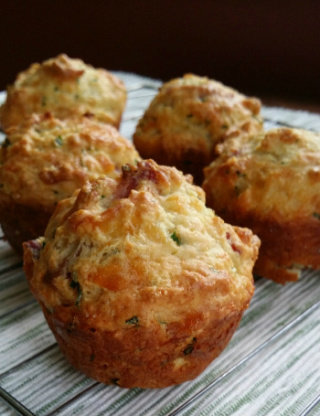 A delicious savory muffin - great for breakfast on the go, or serve with soup or salad. You can also substitute minced ham for the bacon, if you like. Note to World Tour participants - this recipe is typical of the fresh cheese and farm fresh ingredients found in Wisconsin - the MidWestern U.S. region.

These are very good. I used part 2% milk and part reduced fat buttermilk. (Buttermilk makes every baked good better!) I also increased the bacon a little, because I had 6 slices left. I might make this again with slightly less baking powder and do drop biscuits instead. They were very good but a little bit fluffy. My husband wanted something just a little denser and chewier. I may also have mixed them a little too much.
Cook bacon until crisp.
Cool and crumble.
Set aside.
Preheat oven to 350.
Prepare muffin tin by spraying with vegetable oil spray.
Melt butter over medium heat in a small skillet.
Remove from heat and add chives.
Cool to room temperature.
In a medium bowl combine eggs and milk using a whisk.
Add butter/chive mixture, cheese and crumbled bacon.
In a small bowl, combine flour, baking powder, salt and sugar.
Stir to mix.
Add to egg mixture, stirring only until blended thorougly.
Spoon mixture into prepared muffin cups, filling about 2/3 full.
(An ice cream scooper is a great tool for this purpose.) Bake 20- 25 minutes, or until muffin tops just begin to brown.
Remove from oven and remove muffins from tin.
Cool them on a wire rack.