Sauteed Courgettes With Chives
Redsie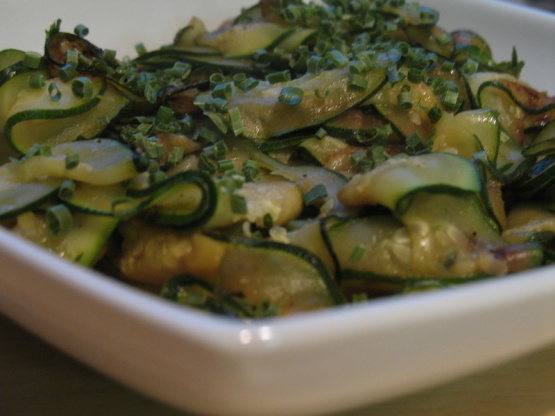 This a adapted from a cookbook called "Salads and Summer Dishes". It's a quick and easy way to prepare courgettes. ZWT REGION: New Zealand.

This is one of those seemingly rare recipes where the ratio of effort to reward yields exceedingly high value! I thought they were great.
Wash, dry, and thinly slice courgettes.
Heat butter and oil together, add courgettes and saute uncovered for 6-8 minutes on medium heat.
Add lemon rind and juice and then salt and pepper to taste.
Transfer to a warmed serving dish, snip fresh washed (and shaken) chives over the courgettes and serve immediately.