Sauteed Chicken Breasts for Salads
BarbryT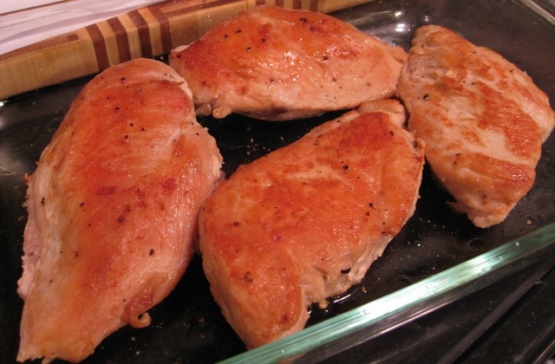 We love chicken salads at our house, but when I read this, (out of Cook's Country magazine to which I subscribe, June/July 2007), I decided that this is the way I will do chicken breast for chicken salad from now on! No more poached chicken breast for us. We'll take the flavor punch of the sauteeing...Slapping myself on the forhead...why didn't I ever think of this?!

Very good recipe. I had only made chicken in the oven and on the grill before this so it was a totally new experience for me and it turned out great. I over salted it a little so I'll use less next time but is definitely one I will be using again in the near future!
2

tablespoons vegetable oil
salt and pepper, to taste
Pat chicken dry and season with salt and pepper.
Heat oil in large non-stick skillet over medium heat until shimmering.
Cook chicken until golden brown and cooked through, about 6 minutes per side.
Transfer to a plate and refrigerate until chilled, about 30 minutes, then cut into 1/2 inch dice.
Can be held in refrigerator up to 2 days.