Sausage Crescent Breakfast Casserole
LILTEXQT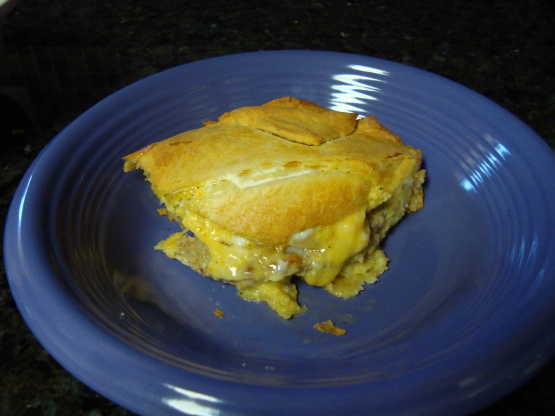 A coworker brought this casserole to an office breakfast recently. I really enjoyed it, and hope to make it myself sometime.

Mmmmmmmm! This was fantastic and so super easy to make! I actually served it for dinner last night since, being almost 9 months pregnant, I didn't want to bother with a big dinner. Over half of this went last night, and the last 1/3 to 1/4 will probably go today for breakfast and/or lunch. Would definately be a great dish to take to a potluck kind of thing as the dish can easily be cut into 'finger-type' sandwiches and served. Also tastes good when it's only luke-warm too. Great base for adding veggies or whatnot too. Thanks for a good one!
Crumble sausage into a skillet and brown, then drain grease off.
Mix sausage, eggs and cheese together in a medium sized bowl.
Unfold one package of rolls and place in bottom of 9" x 13" baking dish.
Spread sausage, egg and cheese mixture over crescent crust.
Top with second package of crescent rolls, tucking down sides and ends.
If desired, sprinkle top with sesame seeds.
Bake in preheated 350 degree (Fahrenheit) oven 15-20 minutes or until golden brown.
This recipe can be prepared for the oven the night before and baked in the morning.