Sausage Balls With Apples and Dried Cranberries
Prep 10 mins
Cook 20 mins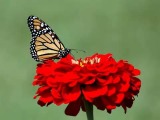 A twist on the traditional sausage balls.
Make and share this Sausage Balls With Apples and Dried Cranberries recipe from Food.com.
Directions
Preheat oven to 350 degrees F. Spray two 24-count mini-muffin tins with non-stick cooking spray. In a large mixing bowl, combine all ingredients. Spoon into mini-muffin pans. Bake in a preheated oven for 20 minutes or until brown. These sausage balls can be made ahead of time. Simply thaw and reheat before serving.