Prep 30 mins
Cook 45 mins
I just tried this recipe as a new meal tonight and it will definately be a keeper. I got it out of a " Taste of Home Quick Cooking" book. Was easy to make and big on taste! I tweeked it just a bit but the end results are still the same.
Directions
Brown sausage in a skillet.
Drain and set aside.
In large stock pot, add begetables, seasonings, and broth.
Bring to a boil and simmer till soft.
Add sausage, milk, and cheese.
Cook on low heat setting till hot.
Serve with crusty bread.
Reviews
Most Helpful
We loved this hearty soup!!! Perfect combination of ingredients that is full of flavor, filling and oh so satisfying. My husband insists that I make this again and again. I am so glad I found this recipe. Thanks for sharing, KGCOOK.
My husband and I loved this soup! We had some friends over the next day and they scraped the pot clean. Next time we make this my husband suggested substituting a broccoli/cauliflower mixture for the potatoes/corn. Thanks for posting!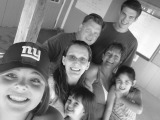 Oh so yummy! I was out of celery so threw in a dash of celery seed. I also put in fresh onion and garlic, double the cheese and sausage. The whole family had seconds! A definite keeper for a quick and tasty fall/winter dinner!