Rita~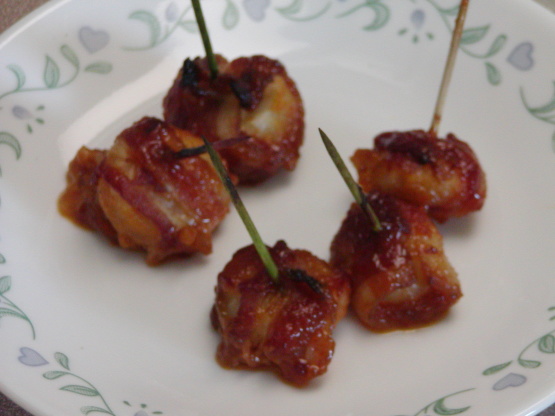 These are very easy to make for a buffett or appetizer party. I usually double this, because they go fast! Note: The last time I made these, I fried the bacon after I cut it into thirds until it was almost done, cooled slightly on paper towels then wrapped around the water chestnuts and secured with toothpicks. The sauce was a lot less greasy. I cooked for about 5 minutes less. Enjoy!

Doubled this recipe, but everyone was still wanting more. Easy, not too fussy with a slightly sweet and sour tang to the crunchy water chestnuts. A nice addition to any appetizer party. Am planning to make these again this week for an office pot luck we are having.
Preheat oven to 350.
Seperate bacon into slices; cut each slice in thirds.
Wrap each cut slice of bacon around a water chestnut.
Secure with a toothpick.
Place in a baking dish.
In a bowl combine chili sauce, mayonnaise, and brown sugar.
Pour sauce over bacon roll ups and bake in the preheated oven for 35 to 40 minutes.