Saltine With Peanut Butter, Mustard and Pickle
Bobtail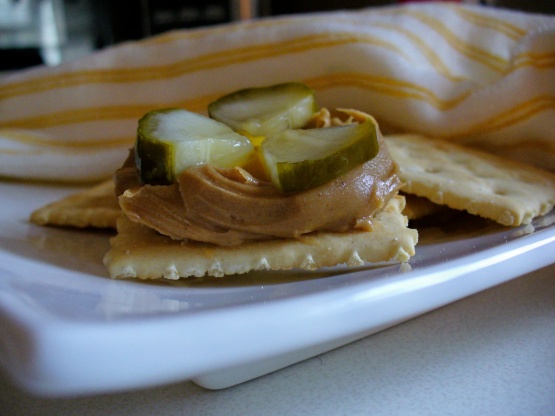 When I was knee high to a tadpole, a friend of mine and I talked about strange things to eat and this is what we came up with. Very good and very contagious! Bet you can't eat just one!

I was searching saltine recipes and the name of this one caught my eye. It sounded like a concoction made up by college boys with an almost empty kitchen pantry LOL! Well, it intrigued me and since I had everything on hand, I jumped up and tried them. I was amazed, they are really good. Not a combination I can really describe, but good nonetheless. Color me surprised! Thanks Chef 969121! BTW, I ate 4.
Take a saltine cracker and spread on a little peanut butter leaving an indentation in the certer for the mustard.
Give it a squirt of mustard and top with a dill pickle slice.
Enjoy!