twissis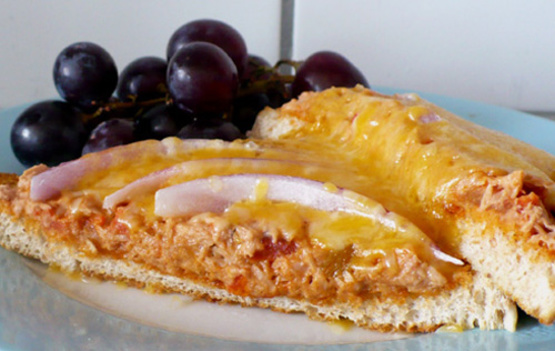 I felt like having tuna melts tonight, but didn't want just the same old stuff. (I usually just go for tuna, mayo and lots of black pepper.) This is what I came up with, and it was pretty darned tasty, if I do say so myself. Hope you like it too! (Note: Prep and Cooking times are approximate...I didn't time mine, so I had to guess.)

Made for Spring PAC 2013 & I must say this recipe surprised me. While I like all the ingredients used, I thought the combo of them was a bit strange & I didn't expect to like it as much as I did. I don't have a toaster-oven & didn't want to heat my big oven, so I microwaved them until the blend of cheddar & Jack cheese looked melted. Other than adding a few thin strips of red onion, they were made exactly as written & enjoyed w/fruit as a easy-fix lunch. Thx for sharing this recipe w/us.
1

(6 ounce) can tuna, drained (I used chunk light tuna in water because that's what I had on hand, but use your favorite.)

2

tablespoons mayonnaise (more or less, to taste. I used Hellmann's Light.)

3

tablespoons fresh salsa (more or less, to taste.)
ground black pepper, to taste

2 -4

slices bread, toasted. (I used whole wheat this time, but English muffins, sandwich flats or pita bread would also work well)

2 -4

slices American cheese (or your favorite melting cheese)
Toast your bread until it is light golden brown. (If it gets too dark during this step, the edges will burn when you put it in the oven/toaster oven later.).
Drain excess liquid from the salsa if it is very juicy. Otherwise, the tuna mixture will be too runny, and the toast will become soggy.
While the bread is toasting, mix the tuna, mayonnaise and salsa in a small bowl.
Spread some of the tuna mixture on each piece of toast.
Place slices on a foil-lined pan in the toaster oven and heat until tuna mixture is warmed through, about 3-5 minutes.
Top each piece with a slice of cheese, and put back in oven until cheese is melted.
Enjoy!