Salmon Cutlets in Indian Creamy Sauce
cyaos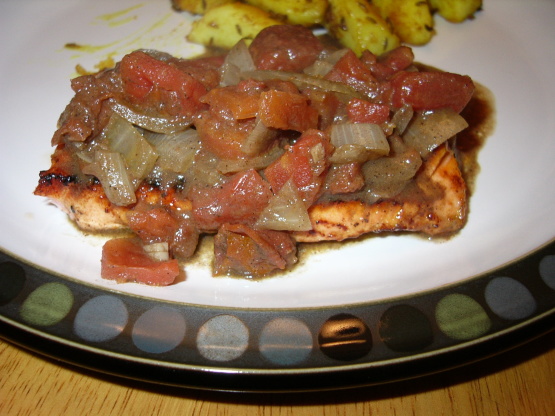 An Indian friend of mine served this at a party and I thought it was so gorgeous that I had to get the recipe!
2

onions

1

(13 1/2 ounce) can coconut milk

1

(14 1/2 ounce) can chopped tomatoes

2

tablespoons of indian spices (garam massala, or a mix of you own favourite spices)
salt and pepper
Chop onions and garlic.
Heat 4 tablespoons of olive oil in a saucepan.
Add the onions and fry at medium heat for about 5 minutes.
Add the garlic and the spices to the onions.
Mix well and leave to cook for another 5 minutes.
Add the chopped tomatoes and the coconut milk.
Season the sauce.
Cover and simmer for 20 minutes.
10 minutes before the end, fry the salmon cutlets in a separate fry pan until slightly golden Season the salmon.
Serve with the sauce and basmati rice.