Salmon Cutlet With Olive and Mustard
PaulaG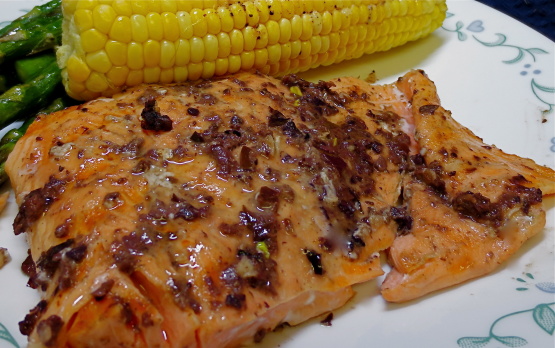 Something super simple and different to throw on the BBQ.

excellent. I had reservations about the meld of tastes, but it was perfect. I chopped the olives and added to the pan when I turned the fish over. I have 11 mustards here, but had to use french seeded mustard! Served with potato salad and green salad. a keeper!
Put the olives through a garlic press into a small bowl (or otherwise finely dice / crush them). Let the juice run into the bowl at the same time.
Add mustard, garlic and olive oil with and whisk together with a fork.
Lightly spread mixture over both side of the salmon.
Heat BBQ plate at medium to low temperature and lightly oil the plate.
Cook until done turning once. I normally look at the change in colour at one end. When it's about half way through turn and when the same texture has gone the whole way through it's ready.
Nice served with some vegetables that have been lightly grilled on the BBQ at the same time.