Salmon and Potato Salad With Lemon Poppy Seed Dressing
JustJanS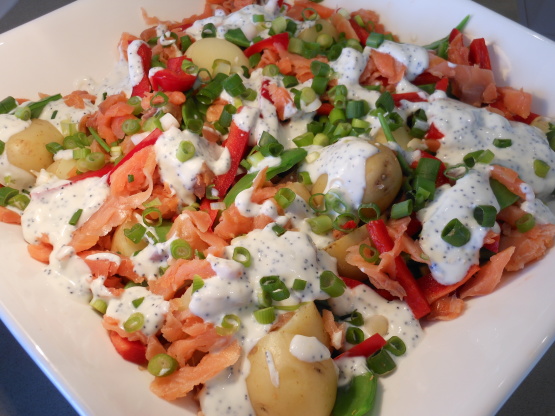 Another wonderful find in my Dairy Australia cookbook. Simple and yet wonderful for a hot summer's day.

Delicious! I got salmon on sale, so used double the amount and had to use red capsicum. This was so simple and tasty I'd like to eat it again tomorrow night. After taking my photo, I added in an avocado that needed using. I laso think asparagus would be great in it too. Thanks for posting the recipe Tis.
Boil the potatoes until just tender. When potatoes are just tender add the snowpeas to saucepan and cook for just 1 minute and immediatley drain under cold running water. Allow to mix to cool.
Halve the potatoes and arrange in a serving bowl with snowpeas, salmon and capsicum .
Combine yoghurt, lemon juice, rind and poppy seeds, season to taste and drizzle over salad.
Garnish with spring onions.