JustJanS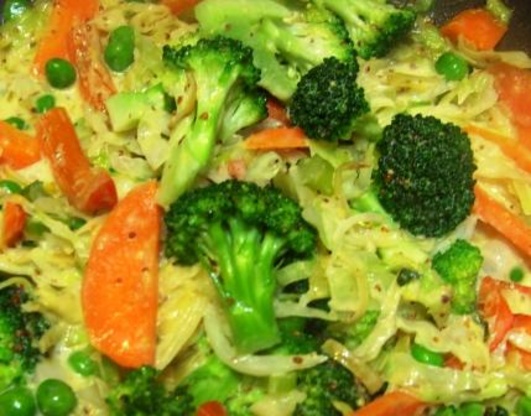 My husband Russ has been making this lately when we have odd veg in the fridge. I think he's almost got it right as his one was great. We actually planned to make coleslaw, but the weather turned cold and we had to re-think dinner. This was great with roast chicken. The last time he made this, he used leek instead of onion. Feel free to vary the veg.

WOW Russ and Jan these are fabulous! hat a nice way to present the veggies for dinner. The only way this can get better is when the veggies come from my garden and not the store. I will use this recipe regularly. I may try this over the coals wrapped in foil and see how that works. Will keep you posted. Lovely. Made for AUS/NZ Swap 39
Heat the oil in a large pan over medium heat, Add the vegetables and toss well, then cover until cooked and tender but not mushy (about 8 minutes). Stir every couple of minutes.
Add the cream and mustard and bring back to a simmer. Cook for a couple of minutes more, then remove from the heat, sprinkle over the parmesan, season to taste, stir then serve.