Bergy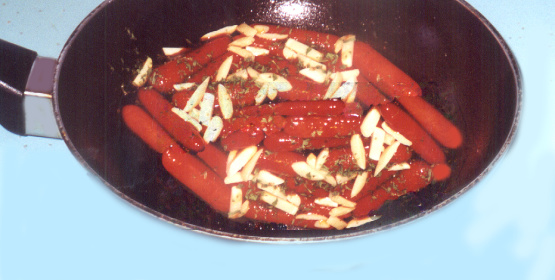 This is from the Kraft "What's Cooking" magazine. I am going to try this soon as it sounds delicious! Recipe can be easily doubled to accommodate more guests. Since I posted this recipe I have made it and found it very good.

Top Review by Bergy
Delicious and so simple to make. I was all set to make them in fry pan when the lectricity went off so I transferred the onto double foil and made a single layer package - popped them on the shelf in the BBQ cooked for 15 minutes medium heat and turned the pkg once. I did not add the parsley & almonds this time but will make these again this Sunday Thanks Dorel great recipe Added note Sunday 25 Apr. Did them again in a fry pan finished them with the Almonds and parsley - again I say so simple and very good Again thanks Dorel
1

lb baby carrots
1⁄4 cup kraft Russian salad dressing (use your own Russian dressing if you have it)

2

tablespoons toasted almonds

2

tablespoons chopped fresh parsley
Pour the dressing over the carrots in a non stick frying pan.
Stir to coat.
Cover and cook on medium heat for 10 minutes, stirring after 5 minutes.
Remove from heat.
Stir in the almonds and parsley.
Serve and enjoy.