Adapted from Confident Cooking.
Directions
Combine raisins, rum and vanilla extract in small bowl; cover and stand overnight.
Place all ingredients in a large bowl and mix thoroughly; pour into an ice cream maker and follow manufacturer's instructions.
Reviews
Most Helpful
This is a great recipe... a great guide! I however, and unfortunately, had to alter it some. 1st of all my husband is very lactose intolerant and the only dairy he can eat is yogurt. He has missed ice-cream and as much as I possibly can, I alter recipes to accommodate his needs. <br/><br/>With this recipe I substituted coconut milk (the cans from Goya with the highest fat content) for the cream and milk. I also had spiced rum on hand not dark so that is what I used. I soaked the raisins for about 48 hours and then added a "splash" more to the recipe. I also added some egg yolks (refer to any custard recipe) to add to the creaminess. Also as alcohol takes longer to freeze, I put the chilled mixture into the freezer for about 90 minutes before placing it in the ice cream maker. <br/><br/>The end result is YUM and totally DAIRY FREE! :)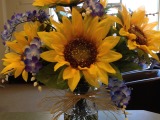 I liked the simplicity of your recipe. It tasted just as I hoped it would, and I used the rum raisins from my jar which were fabulous! My mother said she wouldn't drive home after a bowl of that, but I think my rum raisins were pretty potent. Thanks for sharing!

Thls ice cream is fab at last a soft icebreakers done thanks