Rotel Macaroni and Cheese
Prep 15 mins
Cook 30 mins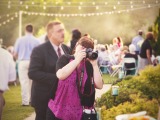 This dish is so simple, yet so delicious. I've been making this for years, and never get tired of it. Usually this is served as a side dish, but I've eaten it as the main course before too! You can use ONE can of original Rotel if you want. 2 cans of original make it SUPER hot. Go for it if you're brave! ;-)
Directions
Preheat oven to 350 degrees.
Cook elbow macaroni according to package directions.
While this is cooking, in a 9" x 13" dish, mix the diced tomatoes with mild green chilies, mushroom soup, and sour cream.
Stir in half of the mozzarella cheese and half of the cheddar cheese.
When macaroni is cooked and drained, mix with the soup mixture.
Top with remaining cheeses and bake for 30 minutes.
Most Helpful
This was good. I used two cans of rotel. We had this as a main dish with a salad. I did use lower fat soup and sour cream so mine wasn't as thick as your picture but it was still very tastey. I'm not a huge fan of mac and cheese...it always seems bland. That's why I was intrested in this recipe. It has a nice kick.

We loved this dish! I only put one can of ROTEL though. Thanks!