Root Vegetable and Cranberry Bake
COOKGIRl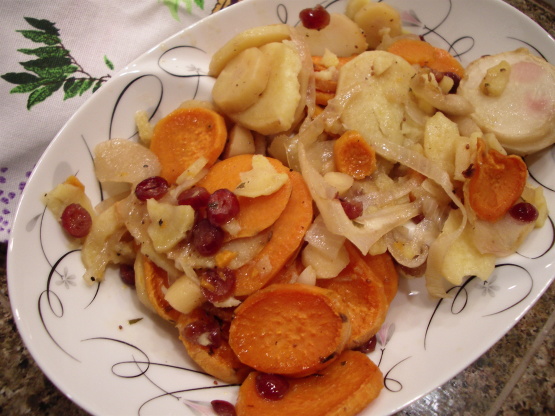 From Cooking Light. Per 1 cup serving: 205 calories, 2.2 g fat, 3.1 g protein, 42.7 g carb, 4.5 g fiber, 5 mg cholesterol.

I should have rated this sooner as I am printing it out to make again for a holiday party. I try not to give too many 5 stars but this is superb! It goes together easily, and travels very well. I was really generous with the veggies so I used a deep 13X9 dish. I didn't add more liquids and it was fine. It is so delicious and unique. It also looks just beautiful. Made as written.
Combine the first 7 ingredients in an 11x7 inch baking dish that has been coated with cooking spray.
In a saucepan, combine the broth and remaining ingredients; bring to a boil.
Pour mixture over vegetables.
Cover and bake in a 375° oven for 20 minutes.
Uncover and bake 50 minutes (this caramelizes the natural sugars, concentrates flavors, and browns the dish).